Generate an intuitive information architecture and navigation for your website, software or app. Boost findability of content, products and more.
Featured Story:
Improving a financial site's findability by 75%
Challenge
The marketing team at a Fortune 500 financial firm was launching a high-profile microsite. Their proposed site architecture was based largely on intuition.
Action
We worked with the team to conduct a card sort with 55 users organizing 75 pieces of content. We ran both moderated and unmoderated sessions.
Result
The analysis allowed us to generate a new IA that outperformed the original IA by 75% in quantitative tree testing with 900 participants and 18 tasks.
Redesigning an e-commerce site structure in 2 days
A global wine product retailer going through a site redesign and owed a new navigation to the developers in 2 days.
We recruited 10 wine enthusiasts for an online qualitative card sort. To avoid keyword matching, we used images rather than product names for the cards.
Based on the data, we worked with the web team to create a more intuitive site structure that went from 11 to 7 top-level categories.
How a card sort helped boost machine product findability by 85%
Customers of a metalworking machinery company struggled to find small-ticket products on the website, and called instead — taking valuable time away from sales reps.
We ran a card sort to 1) learn how customers naturally group metalworking products, and 2) identify more intuitive category and subcategory names.
Our new IA broadened categories so that users have an easier first choice, and renamed many navigation labels. In before-and-after tree testing, product findability improved by 85%.
From 11 tabs to 5: simplifying an enterprise support site
An insurance company with over 3 million customers wanted to reduce costly support calls. To help, an IT product team was redesigning the navigation for the customer service site.
We ran a card sort with 27 users and 50 cards representing top destination pages — and dug into web analytics data. Then we drafted a new IA that we iterated through 10 rounds of tree testing.
The team reduced top-level tabs from 11 to 5, overhauled the Quick Links, and relabeled many links. Before-and-after quantitative testing showed notable improvements in task completion rates and times.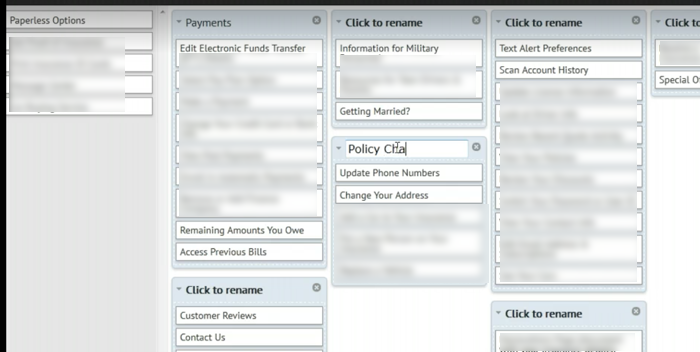 Helped travel execs agree on a new navigation
A $20 billion travel company was building a new content site for corporate travel managers. Management disagreed over how to structure and name the site's categories.
We took a list of 33 article titles and rewrote them as card labels. We then ran a qualitative/quantitative card sort with 20 travel managers. Finally we validated and iterated the IA with a tree test.
User research pointed the way to a more intuitive site structure and provided a more objective way to end internal debates.
Our Card Sort Process
A typical card sort research study runs through 1 cycle of these phases. We collaborate with your team throughout the process.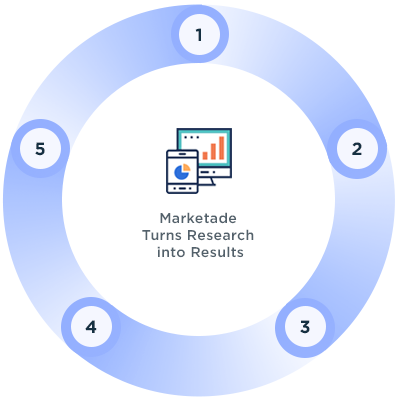 Plan
We reach quick alignment on your KPIs, project goals, and users.
Report
We send you a report that captures all findings, IA drafts, and research recordings.
Workshop
We facilitate a 1-day collaborative analysis and IA generation with your team, on site.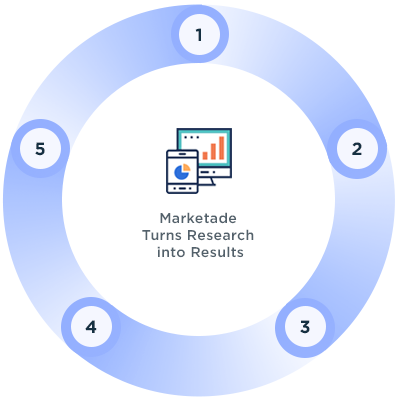 Recruit
We conduct a rigorous recruiting and screening process to find representative users.
Research
We run qualitative (~5 moderated) and quantitative (~50) tree test sessions with users.
Stop making users hunt for information.
Your team is not the user. Without research, they will build a navigation that makes perfect sense to them … and constantly trips up your users.
Recover lost revenue from a poor IA.
If users can't find it, they can't buy it — or read it, or sign it, and so on. That's why poor IAs cost businesses a lot, every day.
Avoid a costly navigation redesign.
Discover and fix findability problems with your architecture before you code it. Otherwise you'll be paying 10x or more for it later.
See how users organize content.
Card sorts are as close as you'll get to seeing inside your customers' heads. Learn what groupings and labels make sense to them.
Bring data to navigation debates.
Generate IAs based on clear patterns observed from over 40 representative users. Skeptical executives get behind this approach.