How UX Research Drives Innovation for Financial Services
See how banks and insurers are using design thinking and user research to drive innovation.
Featured Story:
How UX Testing Helped BankFinancial Catch Problems Before Launch
Challenge
The marketing team at NASDAQ-traded BankFinancial was ready to launch a new version of its public-facing website, and wanted to ensure a smooth launch for existing and prospective customers.
Action
BankFinancial partnered with Marketade to lead a 5-week website usability testing project. The cornerstone of the project was a UX research and ideation workshop at the bank's offices outside Chicago.
Result
The 1-day workshop enabled a diverse stakeholder team to quickly reach alignment on critical UX problems and potential solutions — while learning new design thinking and collaboration tools.
Ongoing Research Programs
Avoiding change chaos through a call center research program
An enterprise financial services firm was designing new software to be used by 5,000 customer support reps in 10 call centers. The team needed a way to involve the agents in the new system design.
We developed and ran a bi-weekly research program with 1,300 reps who went through the key tasks with prototypes.
UX insights from 55 testing cycles helped inform the design team. But the biggest win was reps felt invested in the new system long before it was implemented — reducing training and anxiety.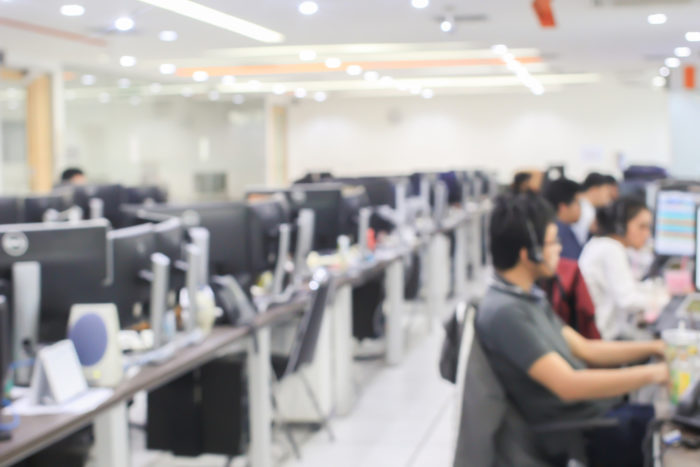 Ongoing Research Programs
How a design manager turned content into a strategic priority
A design manager at a multi-million-customer insurance company faced this challenge: product teams were neglecting the UX effect of their online copy.
We worked with her team to design a collaborative process for testing and rewriting content across multiple products. The process aligned a diverse set of stakeholders and streamlined approvals.
In the 18 months since launch, we've collaborated with 75 stakeholders across 5 product teams to implement research-driven content strategies and changes on web, mobile and email.
Usability Testing Workshops
Overnight iteration yields quick fixes for retail bank
A subsidiary of the world's 5th largest bank was launching a self-service loan application. They wanted to test it with users to improve the experience prior to launch.
We held 2 back-to-back usability testing workshops, testing with 5 users on each day. After Day 1, we made iterative changes to the prototype, and tested the revised version on Day 2.
Small, iterative changes yielded noticeable improvements to the experience on Day 2. At the end of Day 2, the team identified further refinements to the flow.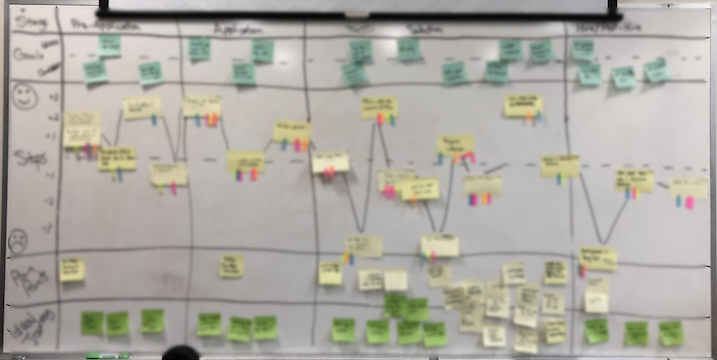 Audience Research
Journey mapping workshop paves the way for better employee recruiting
An HR team at a Fortune 1,000 financial company wanted to make their hiring process more efficient. Previously, their focus had been on internal KPIs at the expense of the candidate experience.
We interviewed 4 former candidates and 2 recruiters, and facilitated a collaborative journey mapping workshop. The team plotted the steps of the process, as well as the goals and challenges along the way.
The team realized their focus on KPIs punished recruiters for rejecting subpar candidates. By tweaking the process to be more candidate focused, they could not only relieve this conflict but also improve the overall experience.
Information Architecture & Usability Research
Getting a single-sign-on dashboard right after 9 iterations
An enterprise financial company was launching a single-sign-on dashboard that listed all of a customer's products on a single page. Multiple teams were stuck debating layout, navigation, and link labels.
We ran 3 rounds of A/B/C click testing — 2 with wireframes, 1 with visual mocks. For each design, we combined qualitative (3 users, 18 tasks) with quantitative testing (100 users, 6 tasks).
After iterating through 9 page variations, the team settled on a much simpler IA and UX design that performed better across core tasks.
"A fantastic little agency that does amazing work."
Information Architecture Research
Improving a financial site's findability by 75%
The marketing team at a Fortune 500 financial firm was launching a high-profile microsite. Their proposed site architecture was based largely on intuition.
We worked with the team to conduct a card sort with 55 users organizing 75 pieces of content. We ran both moderated and unmoderated sessions.
The analysis allowed us to generate a new IA that outperformed the original IA by 75% in quantitative tree testing with 900 participants and 18 tasks.
Usability Research
Inspiring bill-pay usability fixes by watching real-world frustration
A B2C financial services company wanted to remove friction from its online payment flows. 

Simulating a bill payment scenario in a usability lab is tough. So we grabbed real customers just as they were logging into their accounts. 
Motivated by the frustration they saw from real users, the product team fixed 6 payment-related usability issues in their next release.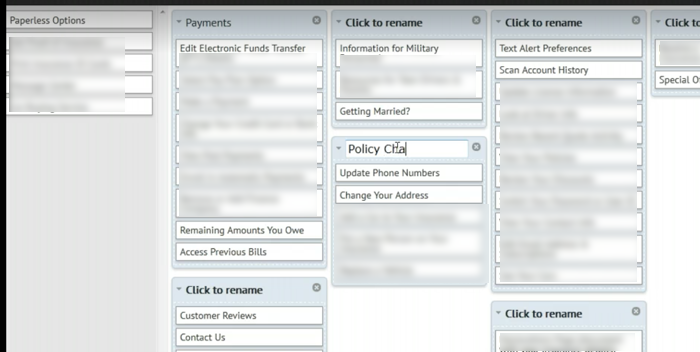 Information Architecture Research
From 11 tabs to 5: simplifying an enterprise support site
A large insurance company wanted to reduce costly support calls. To help, an IT product team was redesigning the navigation for the customer service site.
We ran a card sort with 27 users and 50 cards representing top destination pages — and dug into web analytics data. Then we drafted a new IA that we iterated through 10 rounds of tree testing.
The team reduced top-level tabs from 11 to 5, overhauled the Quick Links, and relabeled many links. Before-and-after quantitative testing showed notable improvements in task completion rates and times.
Audience Research
Using journey maps to build executive support for a product idea
A financial services company was struggling to handle call volumes for a stressful transaction that peaked during bad-weather events. Increasing mobile app usage would provide a better UX and cut support costs.
We observed 10 call center reps and interviewed 31 customers before proposing solutions. One feature idea stood out in its potential impact. To show this, we created 2 journey maps — "today" vs. "with the feature" — highlighting the frustration-delight gaps at each step.
By grounding a product idea in research and helping others visualize its impact on the customer experience, the IT team was quickly able to get executive support.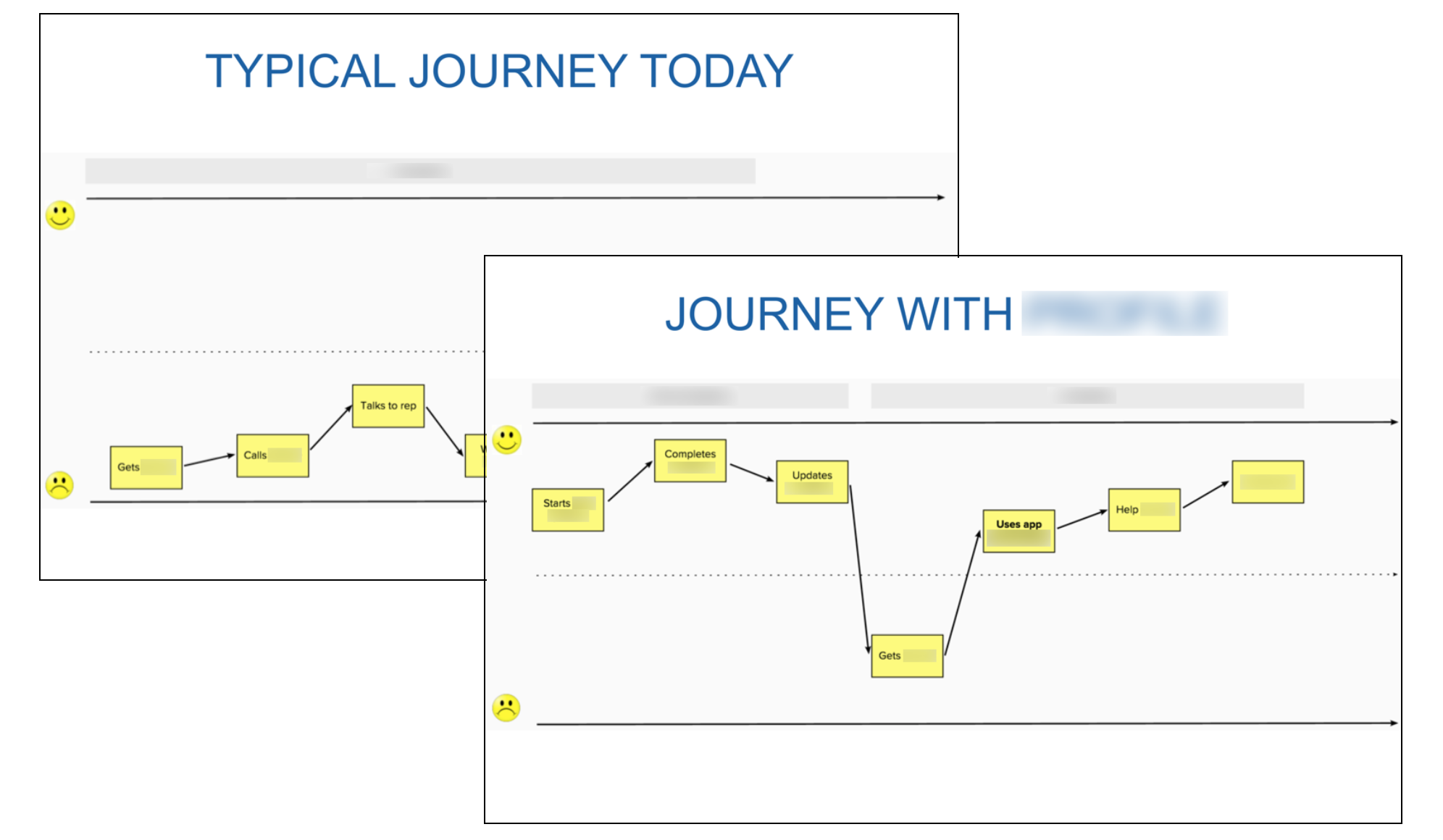 Ongoing Research Programs
Scaling usability testing across an IT enterprise
A 2,000-person IT department at a financial services company ran consistent usability testing in 2 of its products. But they struggled to scale research to its other 10 product teams.
We partnered with their UX team to build a monthly research program. Each month, we tackle a different product team's challenge through a 1-day workshop with testing and collaborative analysis and sketching.
Through marketing and high-impact research, word about the program has spread throughout the organization. More and more, developers, analysts and product managers are watching users interact with their products for the first time.
Usability Testing Workshops
Understanding why users leave complex flows
A team at a Fortune 500 company was seeing a high drop-off rate for customers getting life insurance quotes, and wanted to understand why.
After observing 6 users go through the quote flow, stakeholders agreed that users were confused about how much coverage they needed.
The team reached consensus around a coverage calculation feature, and created a plan to help users answer pressing questions through new content on quote pages.
Usability Research
Uncovering a legalese roadblock via live intercept testing
Many customers of a Fortune 500 insurance company started to report their accident claims online, but then called to finish. Management wanted to reduce costs by making it easier to finish online.
We recruited 8 customers for "live intercept" usability testing just as they started to report their claim online. We quickly called them and asked them to continue the claims process and think aloud. 
By talking to real people who'd just been in an accident, we learned a ton. Our biggest insight: strong disclaimer language on page 1 scared already-fragile users and made them want to talk to someone.
Learn more about our UX research in financial services.