Discovery Research Case Study:
Helping March of Dimes Understand the Journeys of Women with Low Access to Maternity Care
We led a collaborative journey mapping project with this 80-year-old nonprofit to improve maternity care for women with low access to healthcare. After conducting 12 one-on-one interviews, we facilitated a remote workshop with 12 senior managers and directors.
"Access to maternity care is decreasing in the parts of the U.S. that need it the most, affecting nearly 7 million women of childbearing age and some 500,000 babies."
— NPR
Overview & Goals
36% of U.S. counties constitute "maternity care deserts"; they have no hospitals or birth centers offering obstetric care and no obstetric providers. A major March of Dimes initiative, Better Starts For All, has been trying to increase and improve maternity care services in these areas.
Recently, March of Dimes was seeking to better understand the customer journeys of women living in maternity care deserts. The nonprofit was eager to use these journey maps to identify opportunities to improve the content and services they offer to women with low/no access to maternity care.
The specific goals for the project were to:
Learn more about the barriers and facilitators to receiving pre-natal and post-natal care among women in maternity care deserts.
Understand the various touchpoints with March of Dimes services and how those digital touchpoints support the goals and actions of these women.
Brainstorm opportunities to improve March of Dimes services in its Better Starts For All program.
Marketade conducted 12 qualitative research interviews with women who have low access to healthcare and low incomes. Following the sessions, we facilitated a remote journey mapping workshop with a diverse group of 12 March of Dimes stakeholders.
Over 2 half-days, the workshop team built want/need statements from the women's perspective and created 3 journey maps of pre-pregnant, pregnant and postpartum women. Additionally, we discussed strategic concerns and opportunities.
Qualitative Research
We began the project with a discovery phase to better understand the goals, research questions, and target audience for this March of Dimes initiative. We prioritized these 5 questions:
What are some barriers and facilitators to receiving adequate maternity care?
How do women currently get the support and care they need with limited resources?
What are some cultural differences between Spanish and English speakers in terms of support and care needs?
How are these women using digital channels, if at all?
What are some of their major needs that aren't currently being met?
We used these questions to write an interview guide that included over 50 potential questions divided across 6 sections or themes:
Introduction
Healthcare barriers and facilitators
Family planning/pregnancy support with HCP
Better Starts for All program
Technology needs/barriers
COVID-19
We created different versions of the guide for pre-pregant vs. pregnant and post-pregnant women.
Through a variety of sources that included Facebook and Craigslist, we recruited 12 research participants who matched the primary personas for the Better Starts initiative. All women had limited health access and income. We recruited a mix of pre-pregnant, pregnant, and postpartum women. We also included several women who primarily speak Spanish.
We conducted 1:1 in-depth interviews with the 12 participants. Interviews last 60 minutes and were conducted remotely via Zoom.
In addition to asking a range of questions, we showed participants the Better Starts for All website and asked them to talk about how this service might fit into their current situation.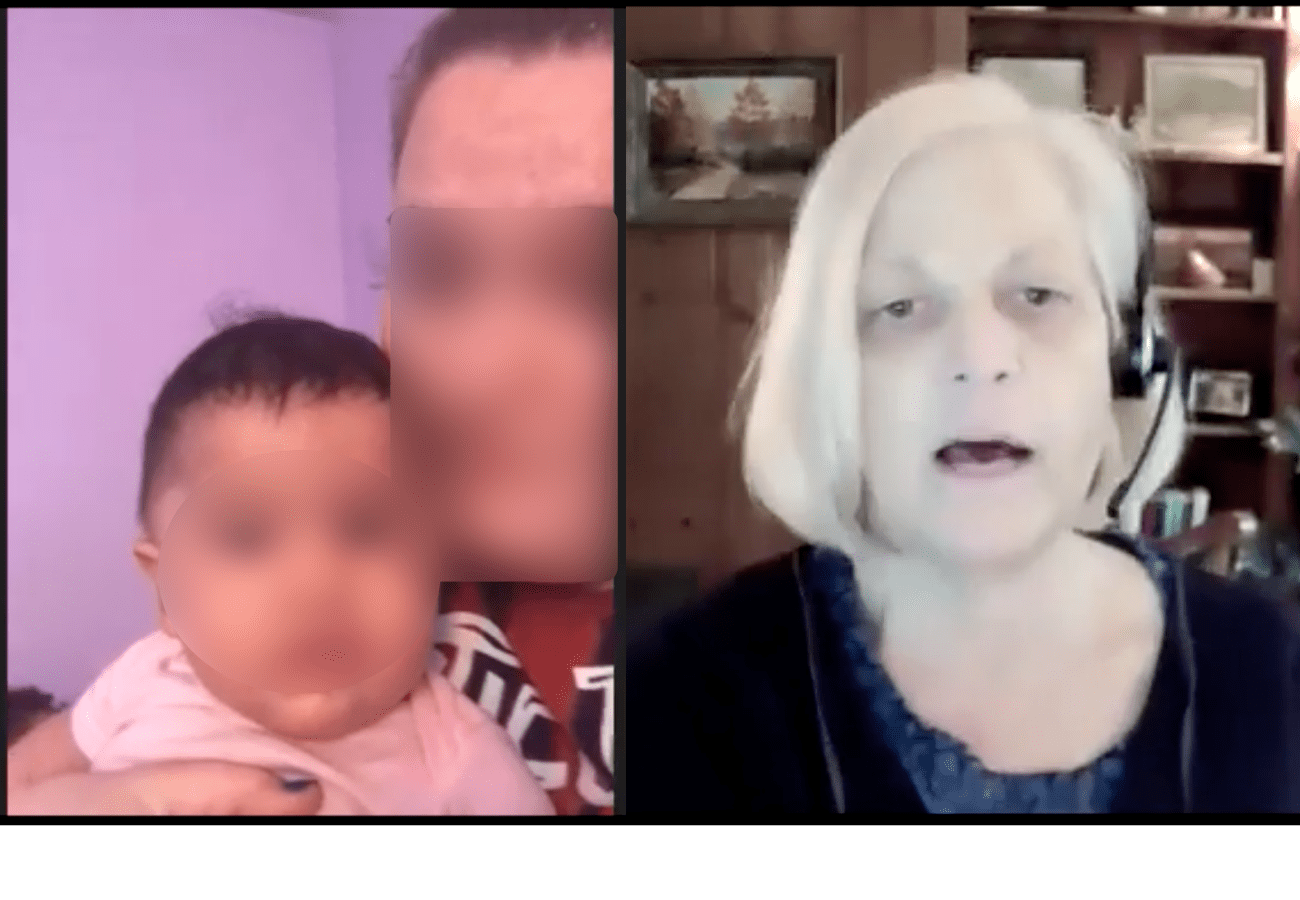 A researcher (right) interviews a new mother (left) about her journey.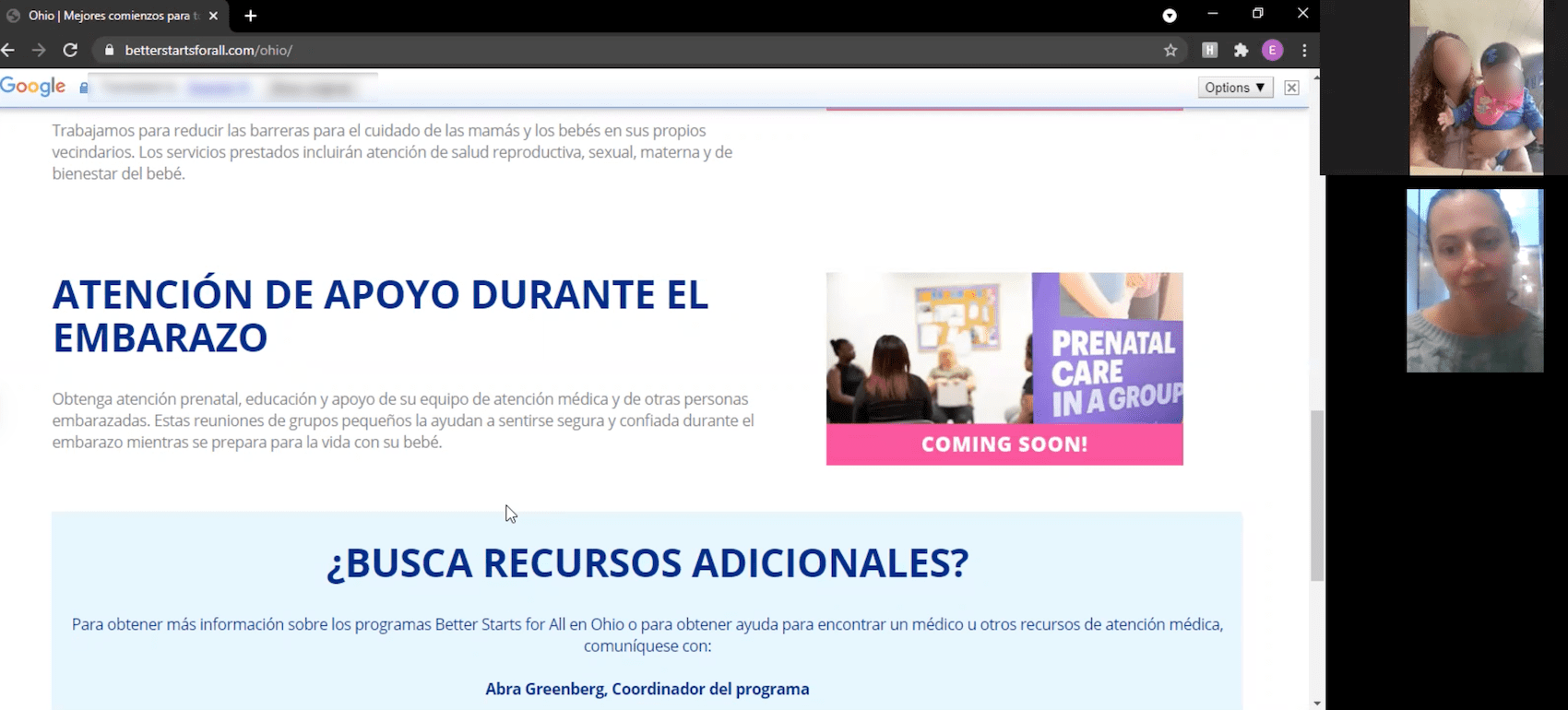 A researcher (bottom) interviews a Spanish-speaking mother (top) about her experience using the Better Starts for All website.
Workshop
We started our workshop with a series of collaborative analysis exercises.
Collaborative analysis is a process by which team members' individual observations from research sessions are combined, captured, and organized in order to bubble up important themes and findings. We use this team-based approach to synthesizing user research because it brings teams to consensus much faster than other methods.
Workshop participants were tasked with watching at least 3 recordings of these user sessions prior to the workshop day. They were assigned specific videos and given guidelines on how to take notes on what they observed.
The collaborative analysis activity we led workshop participants through on the 1st day required a foundation of direct, research-based observations.
Problem Identification
To begin, workshop participants were asked to capture and prioritize user feedback. The steps in doing so were as follows:
Determined which notes were most relevant to the research questions and each put 10-15 notes on a virtual whiteboard in Miro (one observation per note).
Individuals were then asked to present on a specific interviewee, and discuss their observations. This exercise gave the group a line of sight into all interviewees and generated important discussion that helped to round out individual observations and paint a richer portrait of the experience these women shared.
Silently, workshop participants put their notes in Miro and sorted them into groups based on common themes, which were then titled as "I want/I need" statements.
I Want/I Need Statement Expansion
Next, we expanded out the group names into full user need statements in the format of "I want/need _____, so that I can _____."
These statements summarize users' goals and motivations and define what March of Dimes needs to provide a useful and user-centered experience.
Journey Mapping
We separated the journey maps into 3 phases: pre-pregnancy, pregnancy, and postpartum. Each phase was further divided into specific stages (e.g. second trimester).
Workshop attendees and Marketade facilitators collaboratively defined the pre-pregnancy journey map as an example. Following this example, we broke out into separate Zoom rooms and each group followed the process below to build journey maps for the pregnancy and postpartum phases, using the following steps:
Review the actions associated with each phase — I want/I need statements were grouped and assigned a label, which comprised the goals for each phase. Workshop attendees were asked to brainstorm actions associated with each phase based on the research and from their own context working with women at March of Dimes.
Define the digital touchpoints with March of Dimes and/or other organization/websites and apps — Groups discussed how and where women might interact with the March of Dimes website. Groups discussed which other websites/apps that women might use at this phase
Identify thoughts and emotions — Groups discussed what thoughts and feelings women might have at each stage. Groups surfaced intense and somewhat contradictory emotions – it's important to remember that mapping journeys involving major life changes often involves a great deal of ambivalence.
Identify pain points — All three groups discussed and plotted the user's pain points at each stage of the journey. These pain points were identified from the research and additionally, from workshop attendees experience from interactions in other similar services offered by March of Dimes.
Present their journey maps — Workshop attendees regrouped and presented their work to date. Other groups were asked to comment or expand on the findings.
Identify opportunities to create an ideal journey — As an entire group, workshop attendees determined viable opportunities based on the research and friction points identified. During these discussions, important questions emerged about who the audience is for March of Dimes.
Recap & Outcomes
This qualitative research endeavor helped demonstrate the importance of soliciting feedback from women who may interact with March of Dimes and surfaced key insights into the various barriers and facilitators to receiving care.
Major themes surfaced as critical needs that women had to "patch together" through various channels. As a team, we synthesized the user feedback and answered research questions, created need statements, built journey maps that reflected the current experience, and brainstormed solutions to users' frustrations.
Ultimately, the March of Dimes team was able to determine that their target audience thus far felt undefined, and discussed who the audience should be. Additionally, they brainstormed solutions moving forward on where they can focus resources in an effort to fill the gap between what Better Starts for All offers currently and what women articulated as major needs. In some cases, March of Dimes can leverage community partnerships – such as the CHW program – to fill those gaps. In others, they can think about how to improve Better Starts for All based on these journey maps and the service blueprints we will create together.
Following this project, Marketade and March of Dimes worked together to create a service blueprint. We used the journey maps and took a deeper dive into the March of Dimes touchpoints associated with each action to identify and examine organizational inefficiencies and areas for improvement.
​More Case Studies
Before starting a redesign of its B2B software product, a cybersecurity company wanted a deeper understanding of its users and their pain points.
A B2B product team wanted to increase its KPIs through better digital content. Marketade conducted 1:1 customer interviews and led 2 workshops to analyze the research and ideate practical content ideas.