Financial Services Case Study:
Home Buyer Journey Research for PenFed Credit Union
To guide a new PenFed initiative, Marketade conducted in-depth 1:1 interviews with 10 recent home buyers. We then defined 11 key home-buying journey steps and identified pain points and highlights.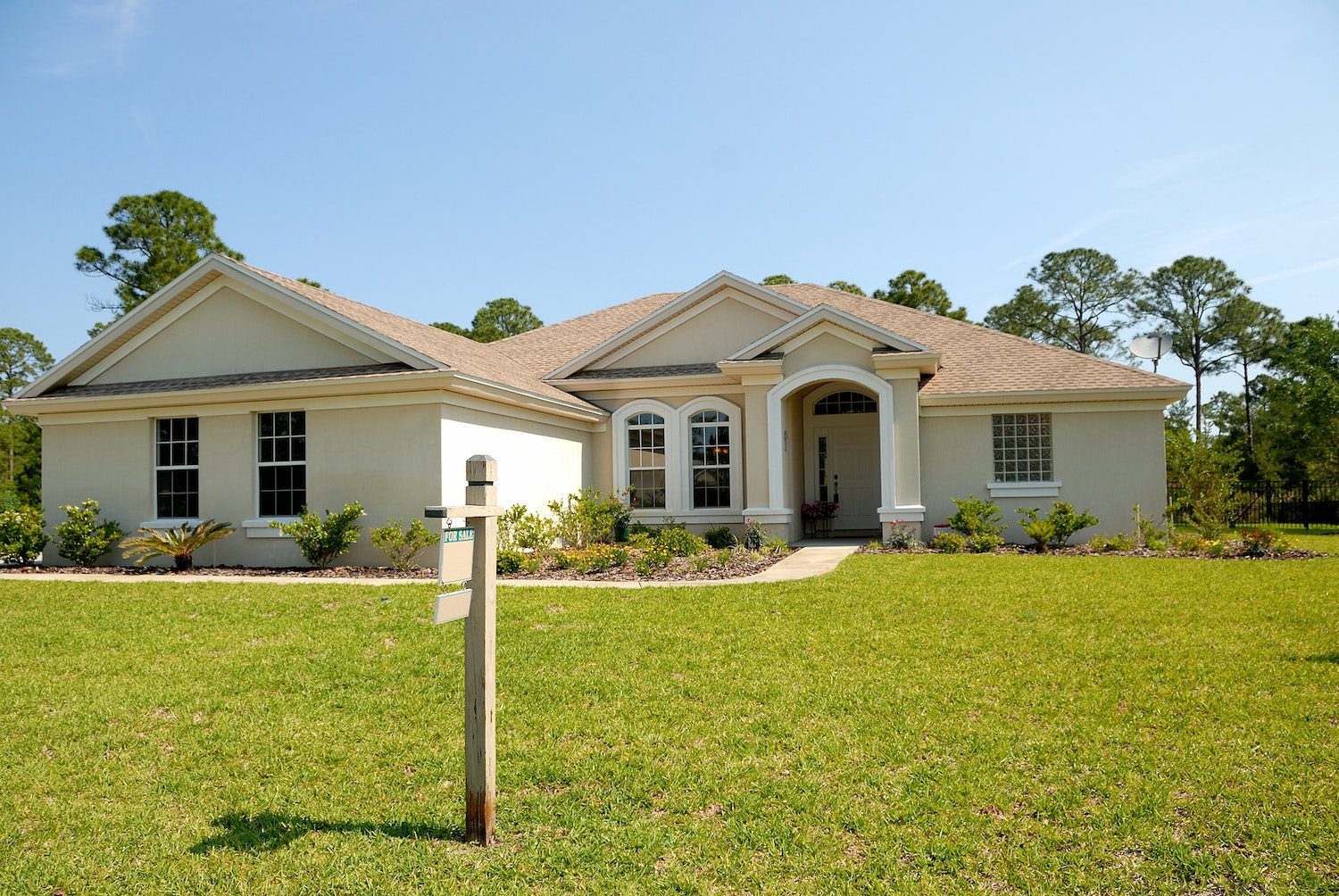 Goals
With 2.8 million members and over $26 billion in assets, PenFed Credit Union is one of the country's strongest and most stable financial institutions. Marketade has led several user research projects for PenFed, including two 5-day design sprints at its DC area headquarters.
Recently, PenFed was kicking off a project to improve its mortgage products and its home buyer customer experience.
As a foundational step, a PenFed team wanted to better understand the full experience of recent home buyers, in particular:
What are the key steps in the home purchase journey?
What are the highlights of the journey?
What are the biggest pain points?
What are the most common communication methods and points of contact?
Approach
The PenFed team engaged Marketade to interview recent home buyers about their experiences and to share key findings from our analysis. Based on the timeline for the larger project, the team needed our findings within 3 weeks.
Marketade used a nimble approach with a lightweight deliverable.
We started by writing an interview guide that included 5 high-level questions about the home buying process, plus over 20 potential probing questions that we could ask depending on the interview flow.
Next, we recruited 10 participants using social media and a couple of other sources. We screened through a survey and follow-up phone calls and selected participants based on a variety of recruitment criteria; for instance, we wanted people who had purchased within the last 6 months and a mix of first-time and seasoned home buyers.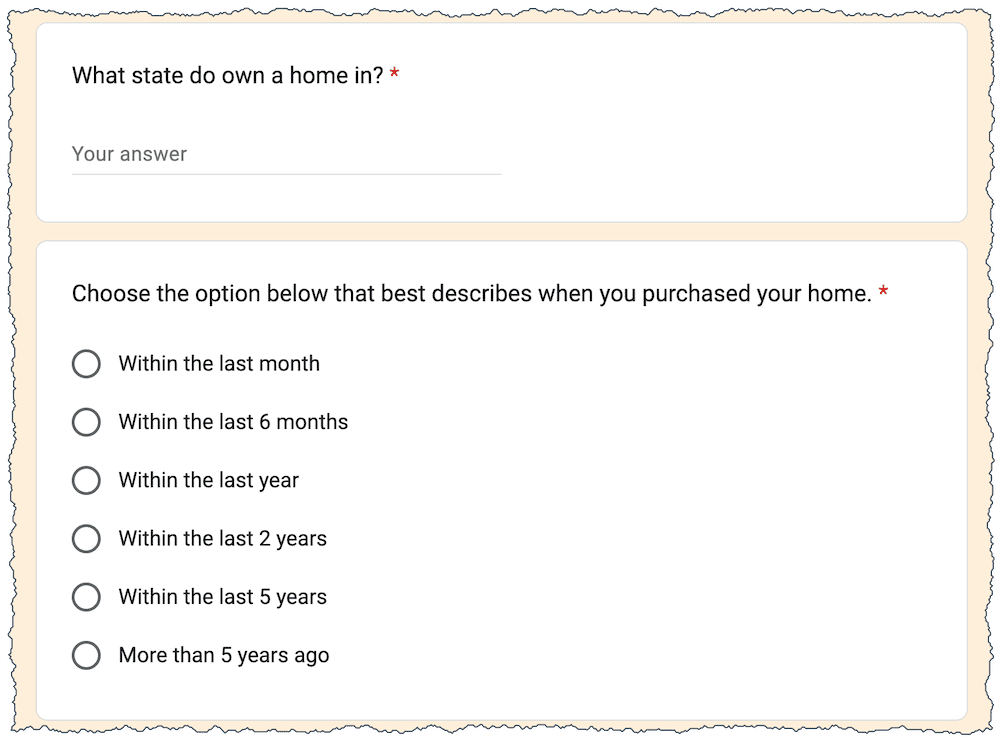 Excerpt from our web-based screener survey
One of our researchers conducted 10 one-on-one interviews via Zoom. Each interview lasted about 30 minutes.
We then reviewed the interview recordings and analyzed the data through the lens of the research questions.
Finally, we wrote a 7-page report that captured our findings. The report included:
An executive summary
Overview of research goals and research questions
A table with the 10 participants along with key details on each
A table with the home buying process steps with notes on each step
Other relevant findings from the research organized by topic
A list of general trends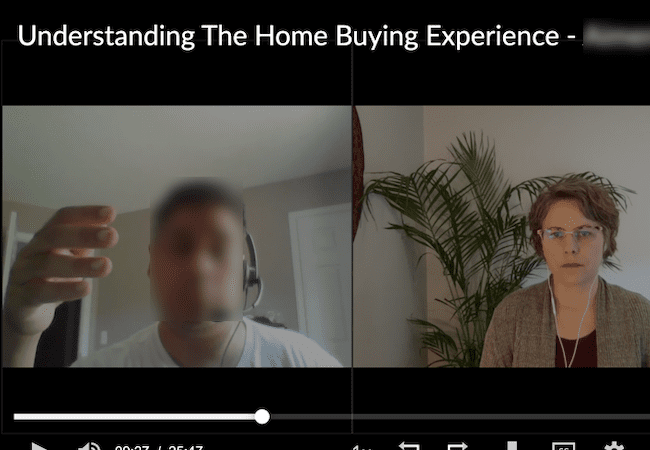 Outputs
Our report contained a number of useful outputs for the PenFed team, including:
6 overall insights
11 home buying steps and descriptions of each step
6 ways that people find lenders and 4 lender selection factors
5 methods of communication during the home buying process
5 pain points and 3 highlights during the process
3 general trends
An example from a key insight from our executive summary: "The biggest pain point in the process was ________."
Another example: "______ was the most common deciding factor for selecting a lender."
"Great insights and great report" was what our key contact at PenFed said to us by email at the end of the project.
"Working with Marketade has been an amazing experience. I highly recommended them to anyone!"
About the Project
Industry: Financial services
Audience type: Consumers
Specific audiences: Recent home buyers
Research area: Discovery
Methods: User interviews
Length: 2.5 weeks
Primary stakeholder: Product and UX teams
Company size: 2,500+ employees
Headquarters: McLean, Virginia
​More Case Studies
Facing silos and a "stuck" KPI, a Fortune 500 financial services company embraces collaborative research, mixed methods, and rapid experimentation — and turns executive scrutiny into praise.
A bank's marketing team was preparing to launch a new version of its public-facing website for consumers and businesses. They partnered with Marketade to lead pre-launch usability testing on their staging site.