B2B Discovery Research Case Study:
How Podium Used Mixed-Methods Research to Guide Product Strategy
Over 100,000 local businesses use Podium's software to manage their customer communications and payments. To help continue its growth, Podium's product team partnered with Marketade on discovery research that informed its 2022 product strategy.
Goals
The Covid-19 pandemic forced local businesses to change in many ways. Among the biggest: adapting to the digital-first interaction preferences of consumers. From paying bills to requesting support to scheduling appointments, more and more consumers prefer to interact via text and other digital channels.
Podium is a top digital communications and payments platform that powers over 100,000 local businesses. Along with Stripe, Instacart, and DoorDash, it is one of the breakthrough companies that started at Y Combinator. As of late 2021, its valuation was over $3 billion.
As the 1,200-person company neared the end of 2021, Podium's product leaders were eager to define a product direction for 2022. To inform this product direction, the Podium team wanted to conduct user research with a mix of personas and industry verticals. They partnered with Marketade to conduct this research.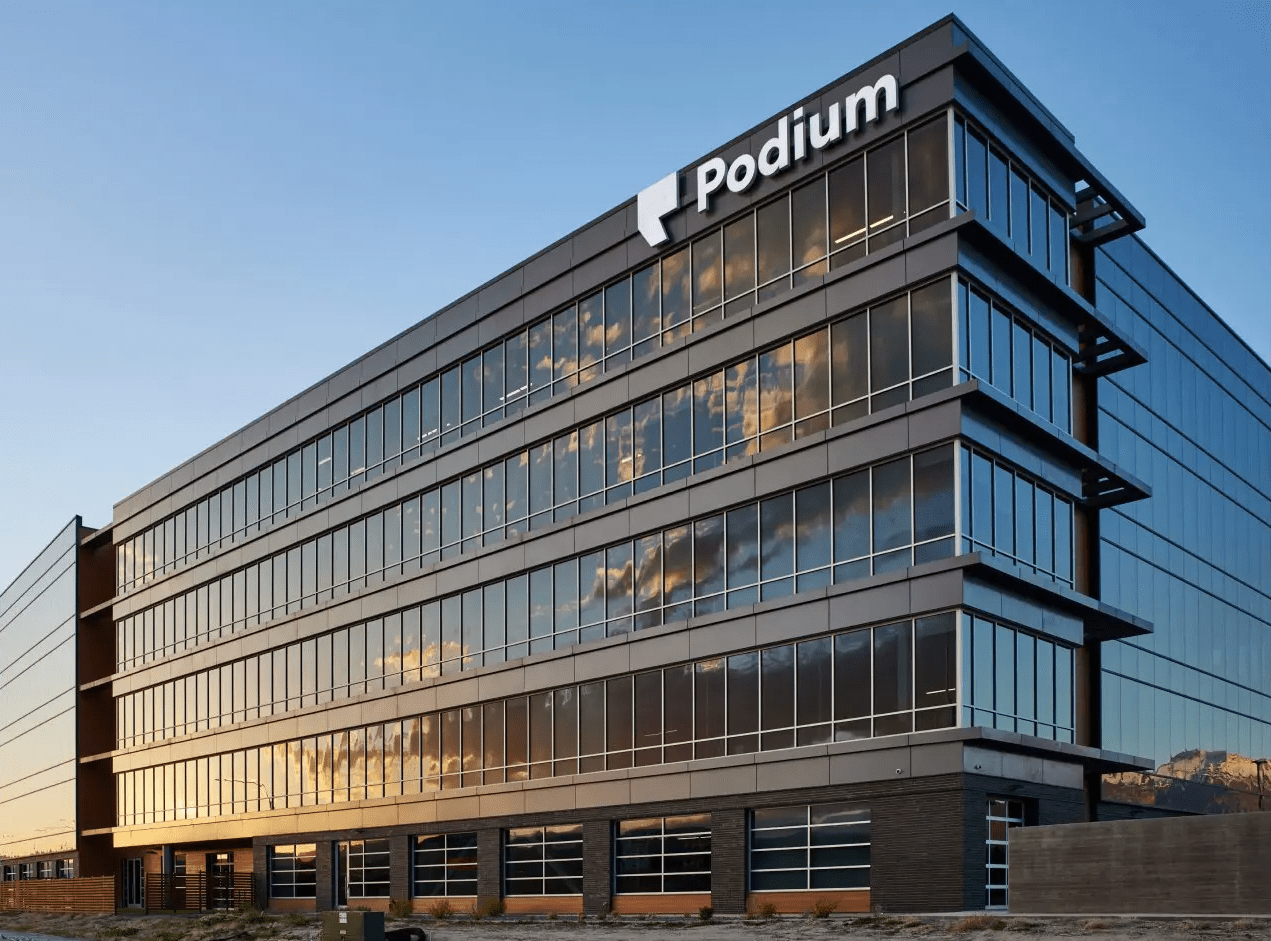 Image source: Podium.com
Approach
Based on Podium's goals, Marketade led a mixed-methods research study that included:
Qualitative research — in-depth 1:1 interviews with 25 customers
Quantitative research — an online survey of 150 customers
Analysis workshop — 2 half-day sessions with Podium product team members
Final report — a 20-page report summarizing the research and project outputs
Here were some of the key steps in our process.
LinkedIn posts were one of the tools that we used to recruit participants for qualitative research.
Qualitative Research
We aligned with Podium on recruitment criteria and the mix of participants. We decided to recruit an equal mix of existing Podium customers and prospective customers. We also agreed on which personas/roles and industries to target.
We wrote one interview guide for existing customers and another guide for prospective customers. Each guide contained about 10 main questions plus potential follow-up questions. An example question: "Walk me through the tools you use to manage communication between you and your customer."
To source current customers, Podium sent out emails and called customers to participate. For prospective customers, Marketade used research platforms and social media to recruit individuals who have influence in making decisions about software and who are responsible for managing leads in their organization. After narrowing the pools through a web-based screener, we further screened participants by phone.
We moderated remote 1:1 interviews with 13 existing customers and 12 prospective customers. Sessions lasted 30 to 60 minutes. The interviews focused on the overall lead management process, including the tools used to manage leads, the pain points, and their overall satisfaction with the process.
Our moderator interviews a Podium customer (upper right) as a Podium product team member (upper left) observes the session.
Quantitative Research
As we conducted the qualitative research, we noted the top patterns and insights with an eye toward additional investigation and quantification through a survey.
We settled on 4 key areas to explore further and validate through our survey.
We designed a 15-question survey with some unique questions for existing vs. prospective customers.
Through a variety of recruitment efforts, we received responses from 150 participants.
Analysis Workshop
Once all of the data was collected, Marketade led a remote workshop over 2 half-days to organize and analyze the findings and to align on takeaways and next steps. Prior to the workshop, the team listened to recordings of the interviews, reviewed survey data, and took notes in Miro.
On Day 1 of the workshop, we facilitated the following activities:
To start Day 1 of the workshop, Podium team members gave brief presentations on the major highlights of each research participant they watched.
As each person presented, researchers captured patterns that emerged among both customers and non-customers. The team evaluated the patterns together and organized them into thematic groups.
We then transformed these themes into customer attributes and differentiators. What are some of the characteristics of the Podium market? What defines one segment from the next?
For each attribute, we defined a range (e.g. in-store vs. in-the-field customer interactions) and placed customers along the range.
We then circled the part of the range where the ideal persona or customer profile exists.
The result was a set of 3 target personas defined by attributes that we generated from user research.
On Day 2 of the workshop, we used the target personas to design a product value proposition and identify strategic product opportunities.
We used a variation of Alexander Osterwalder's Value Proposition Canvas to define each persona's jobs, needs, and pain points.
We then completed the canvas by identifying how Podium's product features and potential features relate to the jobs, needs, and pain points.
Based on this mapping, we were able to generate key product differentiators, potential value propositions, and a list of potential new features and product design changes.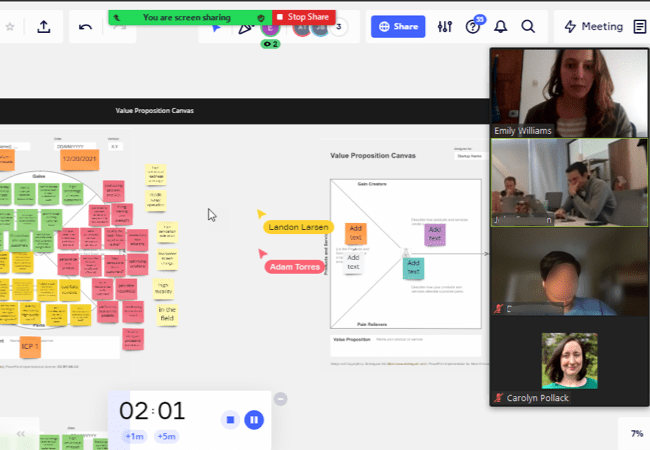 The workshop team participates in a value proposition canvas exercise.
Report
After the workshop, we delivered a 20-page report that captured our research process, workshop steps, and project outputs.
Among all of the opportunities that the project generated, we prioritized 6 recommendations to guide the team as it developed its 2022 product roadmap.
​More Case Studies
When you have no direct access to the customers you want to interview, sometimes you need a lucky break — and an opportunistic mindset.
Before starting a redesign of its B2B software product, a cybersecurity company wanted a deeper understanding of its users and their pain points.