UX Research Case Study:
Improving Two Emory Public Health Platforms with Usability Testing
A digital agency was preparing to redesign two interactive mapping platforms run by Emory University's public health school. To inform the redesign, Marketade led qualitative UX research with professional and lay audiences. We then facilitated a workshop to analyze the research and align the team on the biggest opportunities.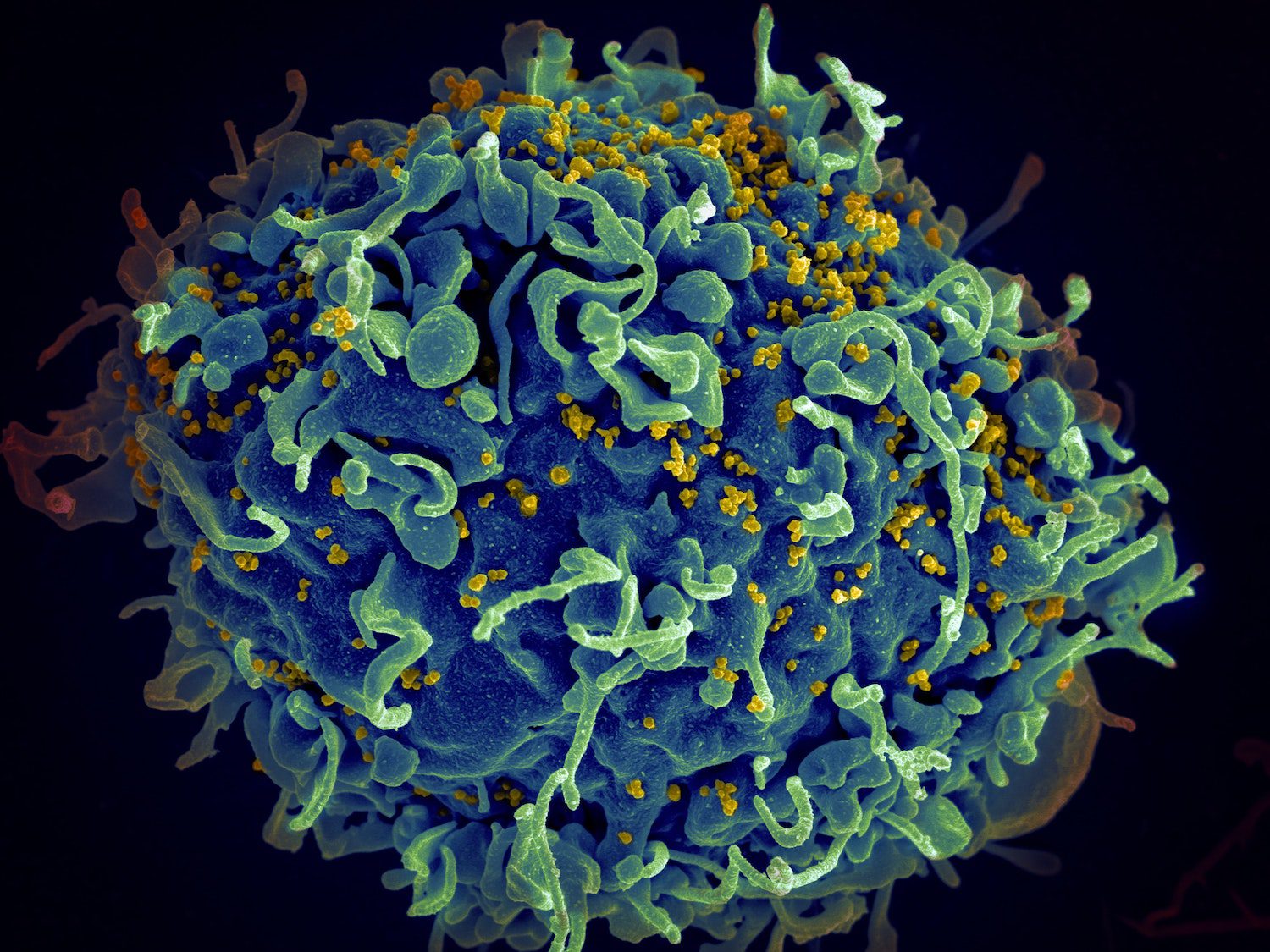 Image source: National Cancer Institute — HIV, the AIDS virus (yellow), infecting a human cell
Goals & Overview
The digital agency Signal Group recently led a redesign of two critical public health platforms: AIDSVu and HepVu.
These interactive mapping tools visualize the impact of the HIV and viral hepatitis epidemics. The tools are presented by the Rollins School of Public Health at Emory University in partnership with Gilead Sciences, Inc.
Prior to the redesign, Signal partnered with Marketade to conduct usability testing of the two sites. Their goals included:
Improve the usability of the platforms and validate potential future directions
Re-engage with the core audience to better understand their desires since the start of COVID-19.
Move beyond metrics to learn what content and features users are engaging with and what they find most useful
Marketade conducted 10 qualitative research interviews with a mix of professional users and people impacted by HIV/AIDS or Hepatitis C. Following the sessions, we facilitated a remote collaborative analysis workshop with Signal Group to identify and prioritize findings and brainstorm solutions.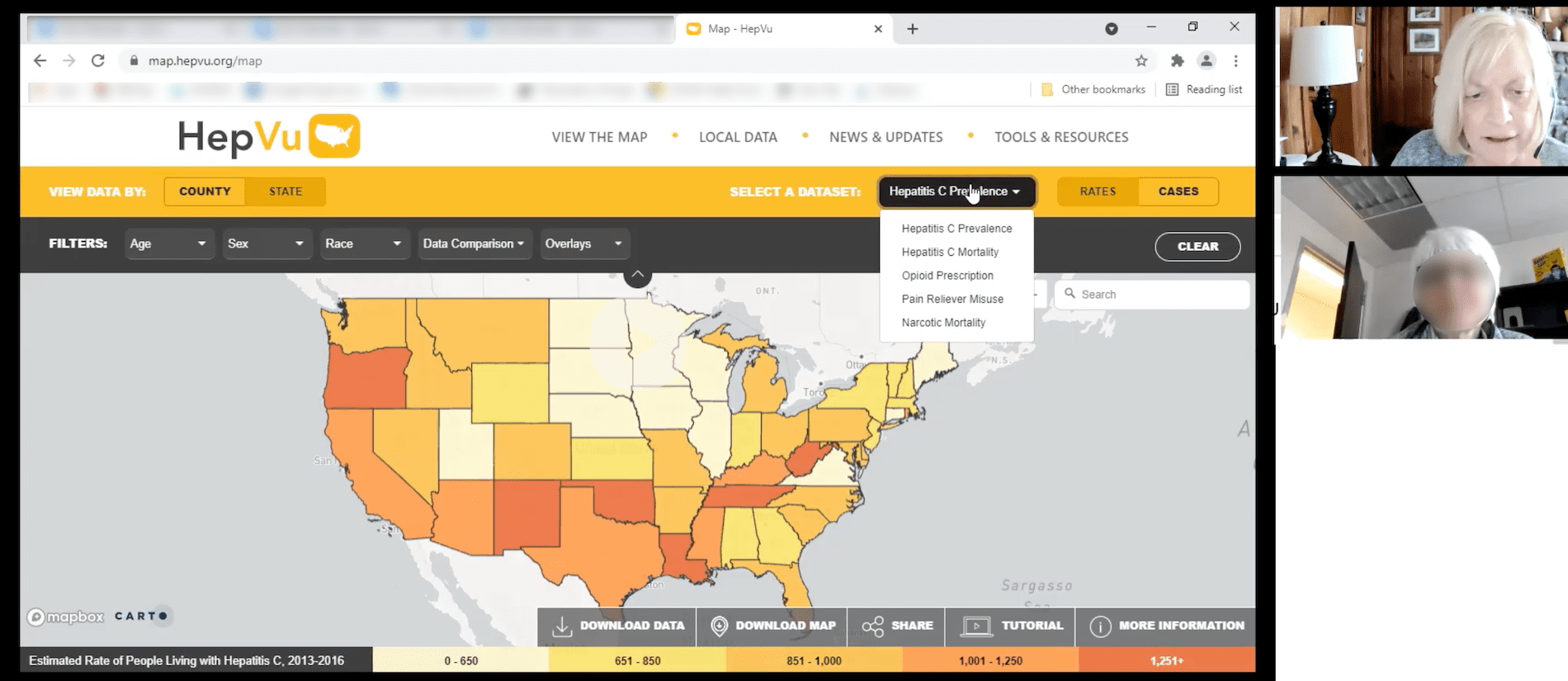 A researcher (top) interviews a public health professional (bottom) as she interacts with the HepVu platform.
Phase 1: Usability Testing
To start the project, we conducted a discovery review that dug further into the project goals. Our teams reached alignment on several questions to guide our qualitative research, including:
What drives users to the platform?
What do core users need from the platform?
What content/features do users value and not value?
How intuitive is the platform navigation?
We also gained agreement on the broad audiences for the research:
Professional users who primarily work in the public health/community health sphere and have previous experience, large or small, using one of the platforms
Lay people impacted by HIV/AIDS or Hepatitis C; these users did not need to have previous experience with AIDSVu or HepVu before but must have conducted past online research on HIV/AIDS or Hepatitis C.
Based on the goals, questions, and audiences, we wrote a research plan that included separate interview guides for each of the 2 audiences. :
We recruited 10 participants — 5 professionals and 5 lay people — using a variety of sources and screening steps.
Next, we conducted 45-to-60-minute one-on-one interviews with the participants. We ran all sessions remotely via Zoom.
We interviewed participants about their research and data-seeking habits, including:
What websites they visit to learn more about HIV/AIDS or Hepatitis C
What types of information they are most interested in seeking out
What an ideal site about HIV/AIDS or Hepatitis C might contain from their perspective
We also asked the participants to screen share while they took us through their experience using the AIDSVu and/or HepVu site. In some cases we asked them to recreate specific tasks that they said they'd completed before; in other cases, we asked them to explore the site. In both cases, we asked participants to think aloud as they used the site.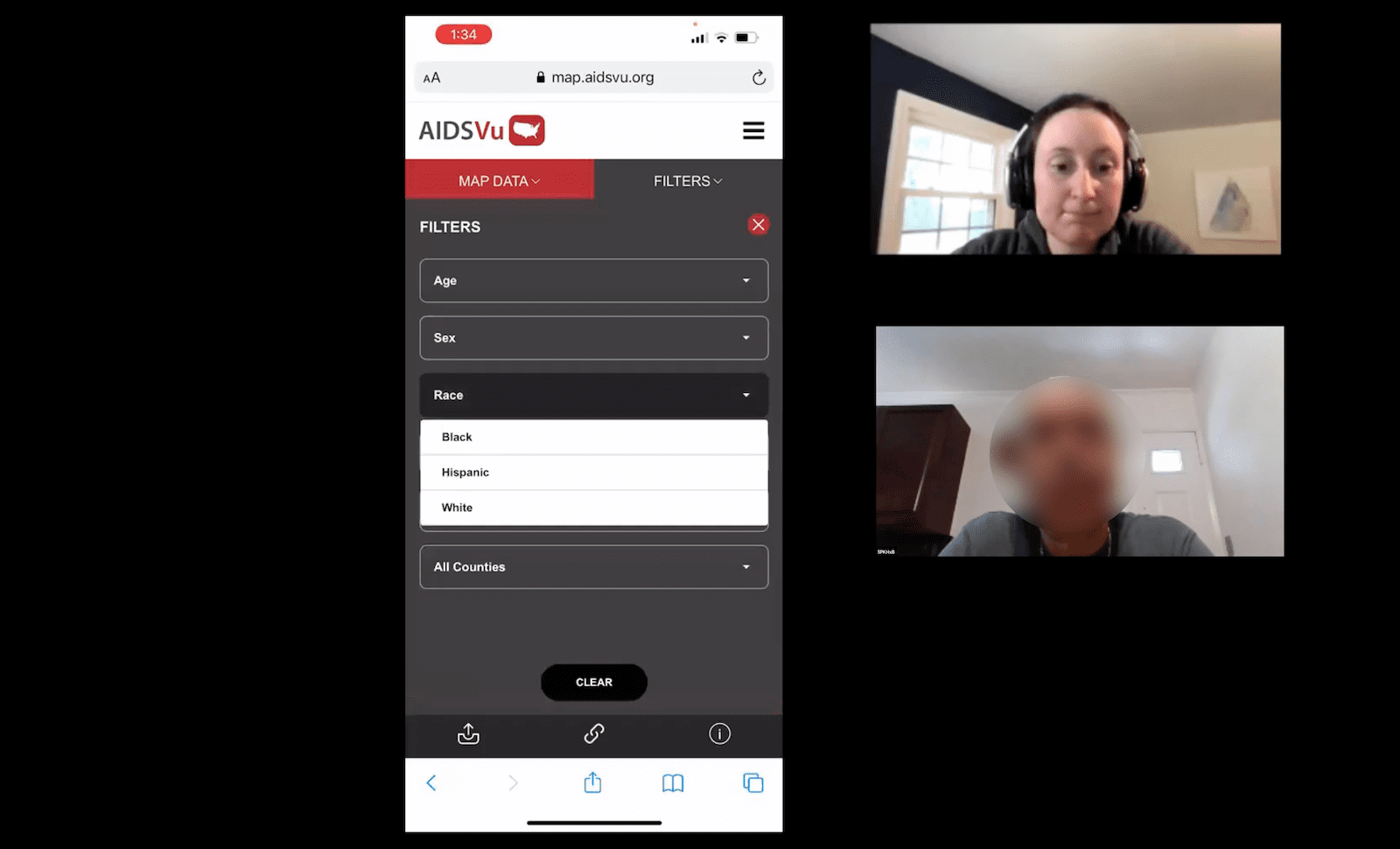 A researcher (top) interviews a participant (bottom) as he completes tasks on the AIDSVu platform using his mobile device.
Phase 2: Workshop
After we completed the research, 3 Marketade researchers facilitated a remote workshop with 7 Signal Group team members representing roles such as content strategist, managing director, and analyst. The workshop lasted 2 half-days.
To begin the workshop, workshop participants collaborated to capture and prioritize user feedback by following these steps:
Viewed highlight reels of the 10 usability sessions and took notes on what they observed
Determined which notes were most relevant to the research questions and put 15 notes (observations) per person on a Miro virtual whiteboard
Reviewed the shared notes and sorted them into groups based on common themes, which were then titled as "I want/I need" statements in the voice of the user
Voted on which groups (findings) were most critical to address based on the research questions
The voting produced 10 prioritized findings phrased in the form of user-centered "I want" statements; e.g. "I want to be able to filter data."
We bucketed the findings into quick wins and longer-term discussions. For the quick wins, we led a short lightning-round exercise to brainstorm solutions for those findings.
Next, we brainstormed solutions for the top 3 findings that required longer discussion through a digital poster-creation exercise.
We divided into 3 small groups and assigned each group one of the top findings. Each group used a digital poster template to capture the problem and possible solutions. We followed the steps below.
Step 1: State the users' problem(s) and note the underlying issues with this problem in 2-3 bullets.
Step 2: Note specific references to the issue from the research using the virtual whiteboard.
Step 3: Brainstorm solutions or paths to solutions and note risks to success.
Then, each group presented their solutions to the larger workshop group and discussed any questions or comments on their solution(s).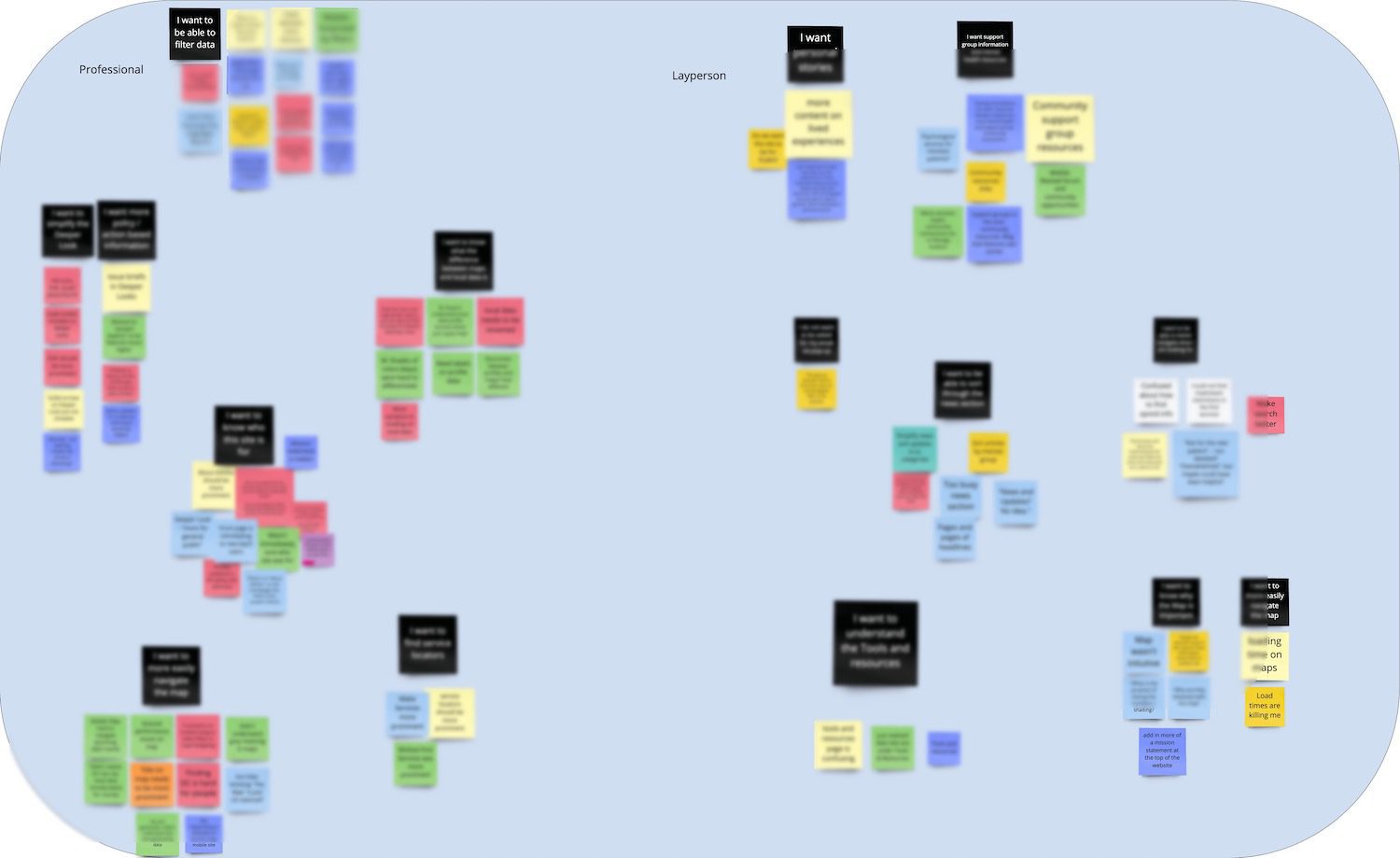 Workshop participants group their research observations using a Miro whiteboard and label their groups (using black sticky notes) with "I want" statements.
Recap & Outcomes
After the workshop, Marketade delivered a 10-page report that summarized the research and workshop processes, findings, solution ideas, and next steps.
This study uncovered key insights that helped inform Signal's long-term vision and strategy for AIDSVu and HepVu and their understanding of the target audiences. As a team, we synthesized the user feedback and answered research questions, created customer need statements, discovered quick wins, and brainstormed solutions to users' frustrations.
After the project, Signal Group integrated the outcomes of this project into both long-term visioning and short-term wins such as updated content.
​More Case Studies
A year after launching its Health Equity Tracker, the Satcher Health Leadership Institute at Morehouse School of Medicine needed to prioritize initiatives based on user research. Marketade led 13 in-depth interviews that helped the team identify UX problems and opportunities based on 4 new personas.
A B2B product team wanted to increase its KPIs through better digital content. Marketade conducted 1:1 customer interviews and led 2 workshops to analyze the research and ideate practical content ideas.