B2B Software Case Study:
Helping Thales Test Enterprise Security Concepts with B2B Decision-Makers
A product team at this 80,000-employee company was exploring new conceptual models for its enterprise security product. Marketade interviewed senior buyers at large organizations and then led a 1-day analysis workshop in Austin.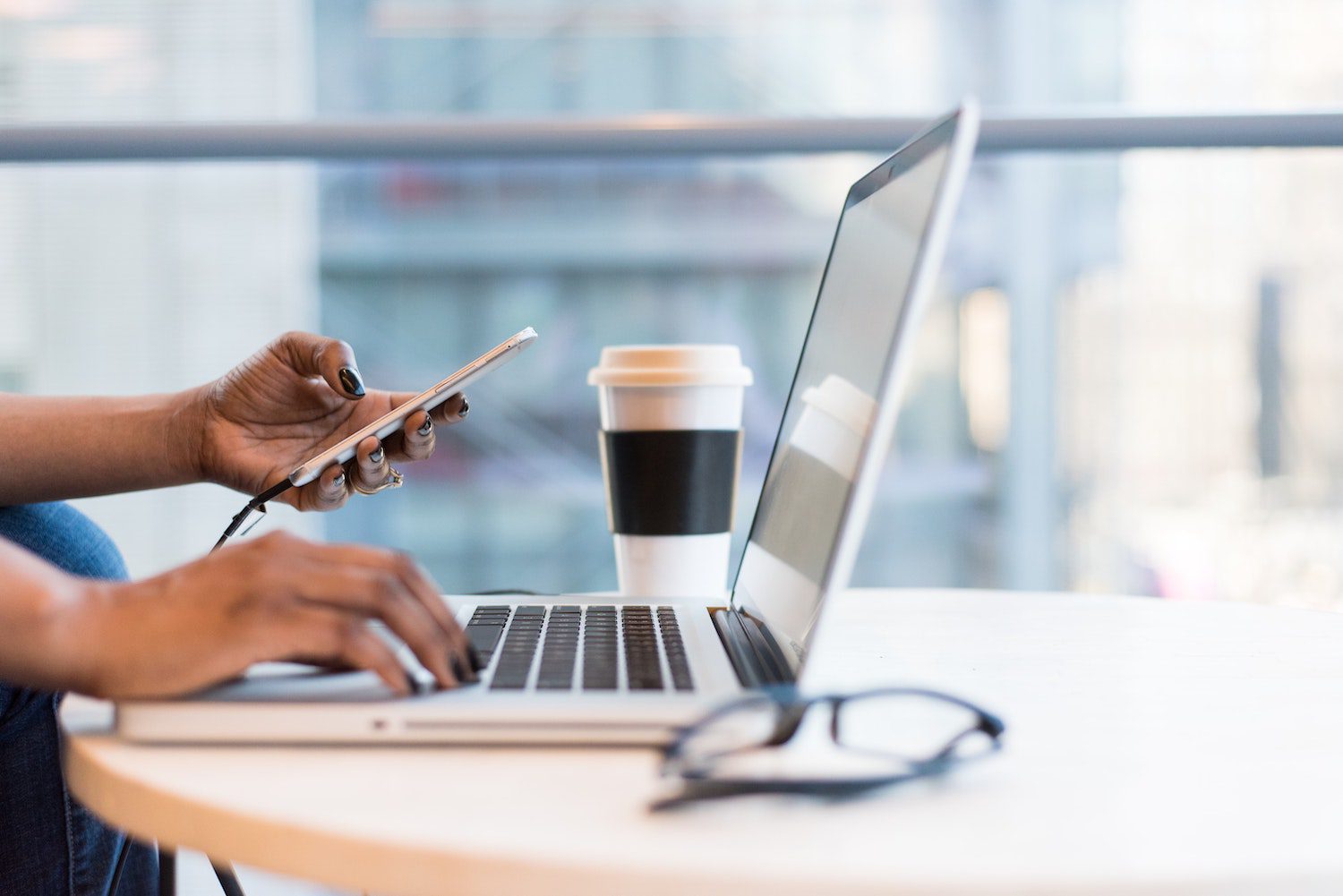 Background
Over 30,000 business and government organizations rely on Thales enterprise security software. One of its most successful product lines is in the access management and authentication space; companies use it to control and monitor employee access to apps and to help prevent data breaches resulting from compromised identities.
A Thales product team was exploring two new conceptual models for this software line. If successful, either of these models would be game-changers for the security industry; no competing products were using them. Yet if the concepts failed to resonate with potential customers, the costs would be significant.
The team wanted to conduct research that helped answer these questions:
How do IT decision-makers think about security at their organizations? What are their existing mental models?
How do they respond to the two new conceptual models? 
If Thales were to switch to one of these models, how could they best design it and position it? What would be the most intuitive presentation for the audience?
The Thales team had a prototype showing each of these two models. As part of the research, they were eager to put their concepts in front of their target audience.
Approach, Part 1: Research
Marketade led a user research study for Thales to tackle these questions.
After a kickoff meeting and some follow-up product demos, we designed and wrote a research plan. We included a recruitment plan and interview moderator guide.
Perhaps the most challenging part of the project was participant recruitment. Our target audience was C-level and director-level professionals working in IT security divisions within enterprise organizations — people who make or heavily influence purchase decisions for digital security products.
The universe of candidates is relatively small; the audience is busy and hard to reach; and the subject matter is sensitive, especially for people working at enterprise organizations where data breaches are a major threat.
Yet with the help of highly-targeted sourcing with LinkedIn ads and a variety of other campaigns, and through a rigorous screening process, we were able to select 5 qualified, high-quality participants.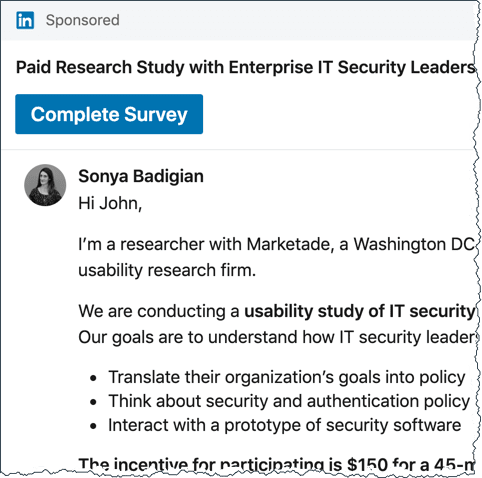 We conducted 45-minute, one-on-one interviews via Zoom. In the 1st half of the interview, we asked participants about their daily work, access management strategy at their organization, and their company's mental models of security. In the 2nd half, we shared a concept prototype and asked participants to think aloud as they interacted with it. We also asked them to match this conceptual model to their understanding of security at the enterprise.
"We're already uncovering that we may need to change the model, which is very valuable to surface at this phase of the project."
Approach, Part 2: Workshop
After we completed the research, 2 Marketade researchers facilitated a 1-day analysis workshop at the Thales North American headquarters in Austin, TX. 12 Thales team members participated in the workshop:
4 UX designers
3 product owners/managers
2 architects
1 developer
1 SME
1 UX manager
Workshop participants spent the morning viewing recordings of these sessions. As we watched, we took short, structured notes on individual post-its.
We led workshop participants through the following process to prioritize the insights captured during the research sessions:
While observing the usability tests, stakeholders in the room took notes on what they observed and put important ones on a whiteboard after each session.
After all of the sessions were complete and the notes were posted, we led an exercise of grouping the notes in a meaningful way to elevate findings.
We compiled a list of findings, which we then voted on to determine which were the highest priority to address.
Of the 14 findings that received votes, we selected 3 of the top vote-getters for solution generation.
With alignment on the problems, we were ready to move on to solution ideation:
We formed 3 groups of 4 people, each group focusing on one top finding.
We brainstormed solutions using a sketching exercise, and then came together within the small groups to agree on a solution.
Each group shared their solution ideas with the larger team; we then facilitated a discussion.
We closed by deciding on next steps.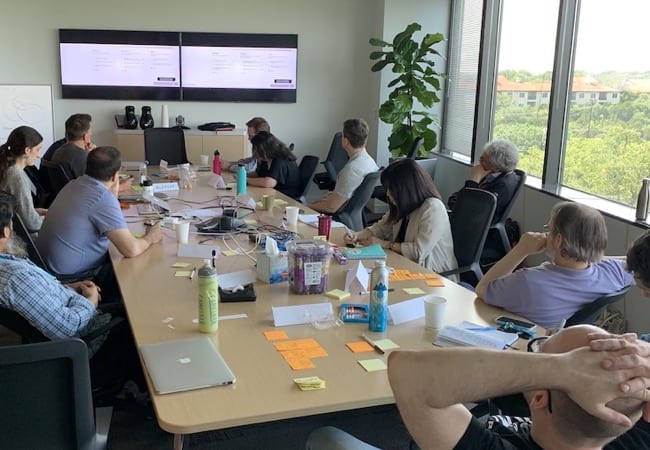 Thales team members take notes while watching user research sessions.
Outcomes
After the workshop, we wrote and delivered a 13-page report that included:
Research process
Research participant details and recording links
Workshop analysis steps and outputs
Key decisions from the workshop
Next steps
The major decisions, however, had already been made in the workshop. Based on the user research, the team agreed that they needed to move in a different direction: neither of the conceptual models resonated with customers. While there were pieces of the models that might work, the team was ready to pivot significantly from the original concepts.
After the project, Thales stakeholders shared the following feedback:
"Great interviews and foundation work."
— Tony Dosen | UX Designer
"Glad that we got to have everyone together focused on this topic and watch the actual interviews."
— Yvonne Weng | UX Designer
"It was great to see potential customers using the wireframes and where they did well and where they had problems."
— H.C. | Product Manager
"We developed empathy with users and identified the underlying issue."
— S.J. | UX Designer
"The solution will now be significantly different at the concept level. It's a lot more than just some UI tweaks."
About the Project
Industry: Software and technology
Platform: Software prototype
Audience type: Enterprise B2B
Specific audiences: IT security decision-makers
Methods: Qualitative user interviews and concept testing
Length: 6 weeks
Primary stakeholder: Product and UX teams
Company size: 80,000 employees
Global headquarters: Paris, France
​More Case Studies
A Verizon team needed to test key assumptions to move closer to product/market fit for a new enterprise software concept. Our rapid research cycle delivered new user insights that helped answer their questions and validate/invalidate their hypotheses.
BI was preparing to overhaul its enterprise software platform used by government agencies. We led a 3-phase discovery research project that included customer site visits, concept testing, and design thinking training.