Ongoing Research Case Study:
Applying User-Driven Strategy Across Multiple Projects and Goals for Thales
Over a 2-year period, Marketade led a wide range of user research studies for this 80,000-employee multinational company. Yet the core approach remained the same.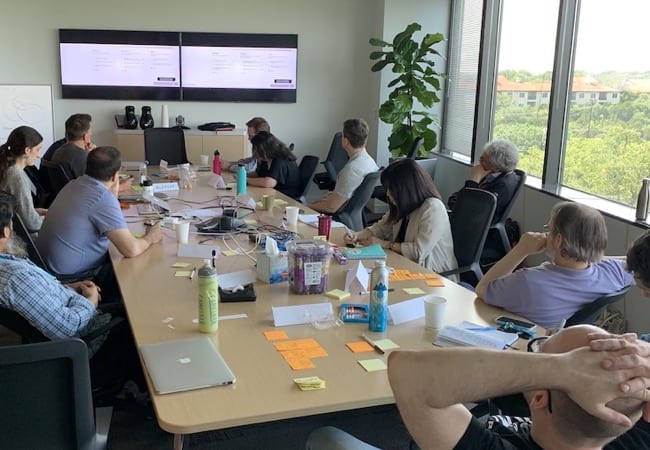 Partnership Overview
Thales is a French multinational company with over 80,000 employees and $20 billion USD in annual revenue. One of its top product areas is enterprise security software where it serves over 30,000 B2B customers.
From 2019 to 2021, product and UX teams in Thales's enterprise security division partnered with Marketade on over 10 user research studies. When we began working with Thales, it was to test the usability of a high-fidelity prototype for an enterprise-level access management application. Over the next 2 years, our relationship expanded into many different types of projects: usability testing, concept exploration, product/market fit research, competitive service evaluations, and more.
However, what did not change was our foundational approach: when Thales had a question or something to explore, we brought in users for a series of one-on-one research sessions that deepened our collective understanding of the problem space. These sessions included conversations, walkthroughs, and interviews. Sometimes they involved screen sharing or prototypes, other times they did not.
In this case study, we share the ways in which we were able to design a wide range of projects to address a multitude of Thales's goals, all revolving around our practice of user-driven strategy. Thales learned that they could bring Marketade into any given project and that we'd be able to design a qualitative research program that gave the users' perspective a seat at the strategic table.
Thales's Needs & Goals
Thales engaged us to bring the perspective of their users to the forefront of their strategic discussions. Most of our projects ended with a collaborative workshop day where Thales had a chance to watch the research sessions and then talk about their project from the user's perspective. We incorporated structured activities and discussions into the workshop time so that stakeholders had a chance to synthesize their thoughts about the research and then integrate those ideas into their product or internal effort.
The projects themselves were quite diverse. Goal statements ranged from, "Learn more about users' expectations for a token management system," to "Better understand the strategic landscape of large companies with distributed access management and security." 
This meant a wide variety of research participants, research session structures, and workshops. We were able to not only tackle not usability issues but also discuss early-stage product concepts, understand the competitive landscape, and learn more about industry trends.
Thales product and UX team members participate in a workshop activity as part of a discovery research study.
Get Tips on Recurring UX Research
Want to build a scalable program of continuous user research? Sign up to receive a new case study each month featuring our best work and ideas in ongoing research.
Who Do We Interview?
We've been able to recruit participants representing several different perspectives throughout our Thales relationship. For certain projects, like prototype evaluations, we focused on gathering feedback from the people who'd actually be using the product — like an employee at a large corporation who needs to validate their identity when they log into the company's network. For other projects, like product/market fit testing, we showed a prototype or concept to a purchasing manager or strategic director to better understand how such a product might fit into the company's current software landscape.
In some cases, we conducted very early-stage exploratory research and no prototype or solution concept existed yet. In those cases, we conducted an open conversation with strategic leaders at a company to better understand any pain points or gaps in their software landscape — gaps that Thales could fill with a future product. Our expertise helped us know who to speak with and when their perspectives would be most valuable. We were able to evaluate Thales's research questions and goals and design a study and recruiting plan that put us in conversation with the right people.
In one recent project, Thales was interested in learning more about how various digital authentication methods were perceived in the enterprise security space. We were able to recruit participants who had a say in authentication strategy at their company, and we received useful perspectives on the pros and cons of different existing methods as well as specific, in-depth feedback on an up-and-coming authentication method that Thales was interested in developing a solution for.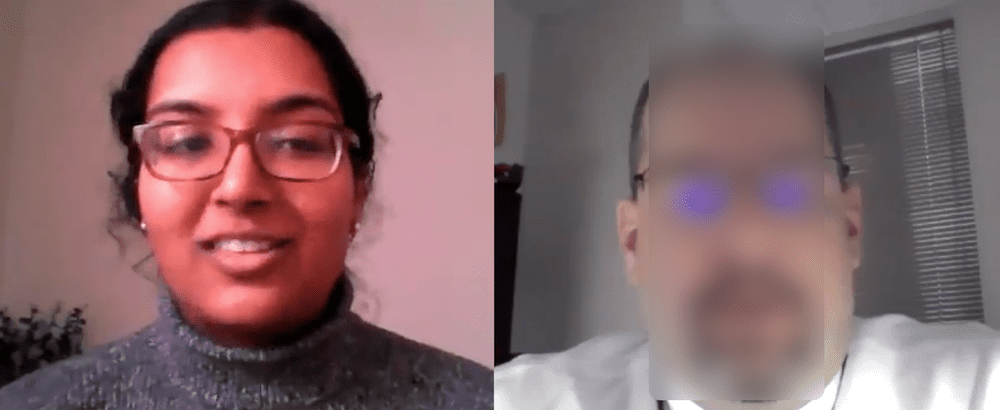 Our research moderator (left) interviews an enterprise security leader (right).
What Do Our Research Sessions Look Like?
For each project, we designed a unique session structure based on the research questions and goals. In one project, we used a long interview about network visibility, culminating in a 10-15 minute feedback session about a static prototype — an example of a tool to help increase network visibility for security strategists.
Another project early in our relationship was a more traditional high-fidelity prototype walkthrough that focused on usability feedback. Their team was in the later stages of solution design and brought us in to help get focused feedback on a tool.
Many of the sessions we designed were fully interview-style or sometimes involved asking the participant to screen share or give personal examples. This came into play particularly when the goal of the project is to gain knowledge about an industry trend or learn more about a potential target audience's pain points. Sometimes we recruited non-customers to help us better understand the competitive landscape and get a sense of users' expectations when using a certain category of software.
* * *
Over our 2 years of working with Thales, our work demonstrated the value of incorporating user research into a long-term strategy for product ownership. Especially with large organizations, this recurring model of embedding customer perspectives into a multitude of projects can help reorient teams towards impactful work, regardless of the project type or phase.
Get Tips on Recurring UX Research
Want to build a scalable program of continuous user research? Sign up to receive a new case study each month featuring our best work and ideas in ongoing research.