Enterprise B2B Software Project Summary:
Helping Thales Understand Enterprise Buyers Through Value Proposition Mapping
This is a case study from Marketade's work with Thales, an EU-based firm that provides services and solutions across various markets, including security, transportation, and aerospace. With over 75,000 employees in over 50 countries, Thales sells to governments and enterprise organizations around the world. Its annual revenue is over $20 billion USD.
Marketade has partnered with Thales on numerous projects since 2019, all of which included qualitative research and stakeholder workshops. Through in-depth customer interviews, our work has given the firm's UX, product, and innovation teams a deep understanding of the journeys and needs of their buyers and users. And through collaborative workshops, we help these teams gain alignment and generate evidence-based solutions and strategies.
Market Validation & Value Mapping in Enterprise Security
A recent discovery research project focused on enterprise cybersecurity leaders who are the key decision-maker for security strategies and purchases at their organization. The team we worked with was exploring a new type of security solution that would challenge the model used by most organizations. The team had 2 critical questions, the generic versions of which are:
Question #1: What types of organizations are most ready to adopt a [certain type of] security solution?
Related questions included:
What is the value that such a solution would bring to the organization?
Who are our target buyer personas at the organization?
How ready are they in terms of budget and strategy?
Question #2: What are the barriers preventing such a tool from being viable, desirable, and feasible?
To help the team answer these questions, Marketade:
Recruited and interviewed 10 senior-level cybersecurity leaders from large and mid-size organizations
Facilitated a collaborative workshop to observe, analyze, and act on the research
Delivered a report that summarized the process, research, and workshop outcomes
Step 1: Discovery
We broke down the project into the 6 phases below. Each phase consisted of multiple steps and lasted a week or less. The total project took 5 weeks, from kickoff to final report delivery.
We assigned 1 lead researcher and 2 supporting researchers to this project. After a virtual kickoff meeting and follow-up discussions with the client team, our team designed the research and delivered a 6-page research plan.
The research plan started with clearly-stated project goals and research questions. The bulk of the plan was a detailed discussion guide for our moderators to follow during research sessions. This guide included over 50 potential interview questions — organized into various buckets and levels — that all tied back to the research questions.
To get the most value from each interview, our researchers always depart from the script and adapt based on the participant's responses. Still, we find it critical to fully think through the likely paths an interview might take and have a plan for them. We collaborated closely with the project team to develop the questions and interview structure.
Our interview guide focused on open-ended questions to allow for broad and deep insights into the buyer journey. We wanted to put the team's assumptions to the test and be open to surprises.
In addition to the discussion guide, we wrote a 3-page recruitment plan that shared details about the target audience and selection criteria for research participants.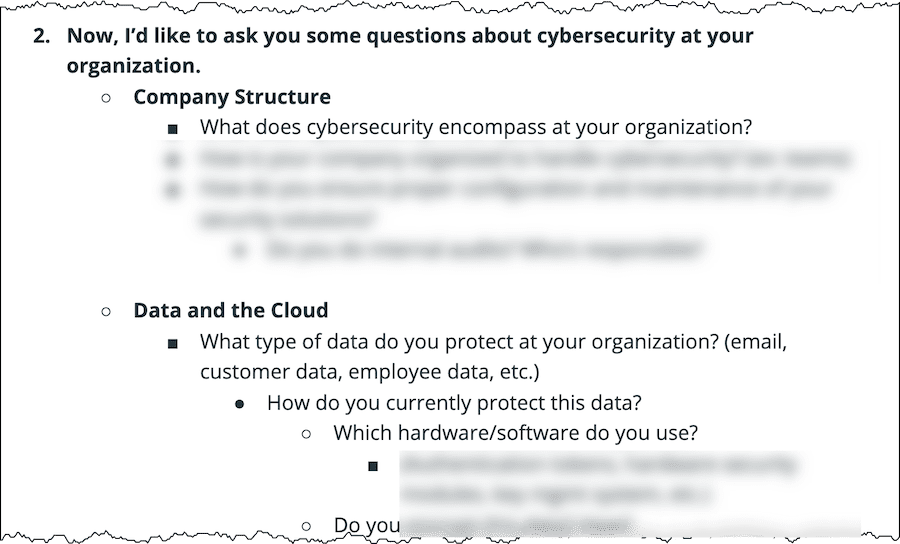 A small excerpt from our research discussion guide. We relied mostly on open-ended questions starting with "What," "How," and "Why."
Step 2: Recruiting
The recruitment of participants for this project was particularly important and challenging. The target audience is relatively small, hard to reach, and — due to the topic — reluctant to be interviewed. This makes it tempting to find easier-to-recruit proxies: people who are less senior in their organization but understand the security space. We agreed with the client team that, given the research questions, we could not cut corners with recruiting; we needed to speak with the primary decision-makers.
For this project's recruitment, we had to be more creative, rigorous, and persistent than usual. We sourced candidates from a variety of places, including LinkedIn ad campaigns that targeted professionals by job title and company size (e.g. CIOs at companies with 10,000+ employees). All of our recruitment sources pointed candidates to a 6-question web-based screener; to get more reliable responses, we used 4 open-field questions, such as: If a data security breach occurred at your company, what would your role be?
We then conducted phone screening interviews with candidates that passed the web-based screener. Again, we included some open-ended questions, such as: Related to your job, what keeps you up at night? What is your biggest worry or pain point? Since our skilled researchers conducted the phone screens, we captured the data necessary to select the right candidates — while increasing our grasp of the project's research questions.
Based on our rigorous process, we were able to find 10 qualified participants from a mix of industries that met the desired split between large and mid-size organizations.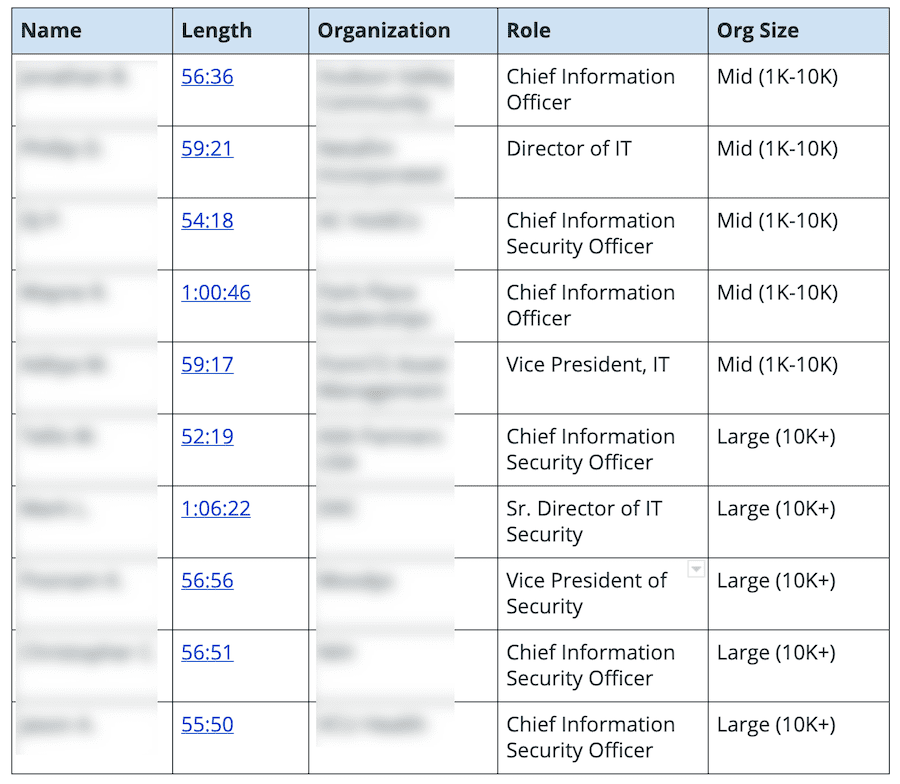 A table showing key information — including title and company size — for the 10 research participants we selected for the study.
Step 3: Research
We conducted interviews with each of the 10 participants. These sessions were:
One-on-one moderated interviews
Conducted remotely via Zoom
Recorded so the team could watch them in full
While our researchers are not cybersecurity experts, through the discovery and recruitment process we learned enough about the subject to be able to conduct effective interviews with experts in this area. 1 or 2 client team members joined many of the live sessions as observers, allowing us to leverage their expertise during a Q&A period at the end of each interview.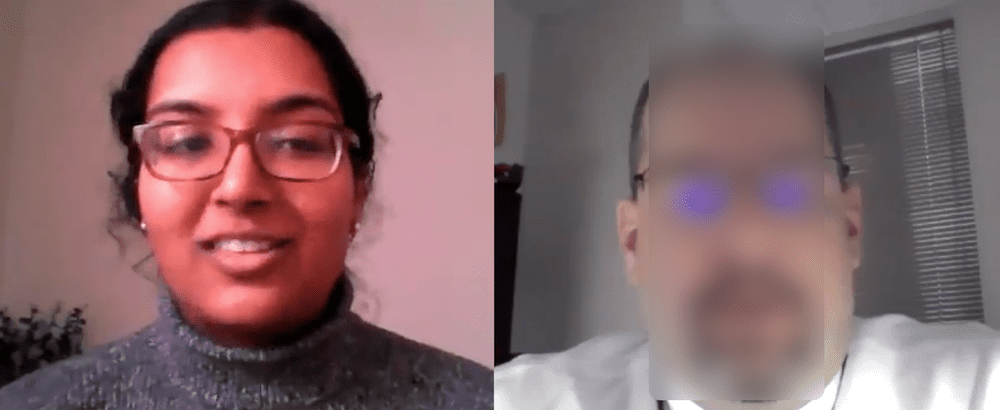 Our moderator interviews an enterprise CIO about cybersecurity practices and strategy at his organization.
Step 4: Workshop
Following these interviews, we held a 1-day collaborative workshop to observe, analyze, and make decisions based on the research. 10 stakeholders participated in the workshop, which was facilitated by 2 Marketade researchers. The workshop team represented a diverse cross-section within the relevant business unit, including stakeholders responsible for innovation, competitive analysis, product, UX, and engineering.
We started by sharing focus questions for the workshop; these were based on the project's research questions. We then gave instructions on what to look for in the research sessions and how to take notes on "stickies" based on the focus questions. After each session, the team put the important notes on 2 Value Proposition Canvases: one for mid-sized organizations and one for large organizations.
The Value Proposition Canvas is a tool developed by Alex Osterwalder, creator of the Business Model Canvas and other tools to help teams visualize, simplify, and collaborate on complex business problems.
After all of the sessions were complete and the notes were posted, we led an exercise where we grouped similar observations to uncover trends and consolidate and elevate findings.
Next, we used a series of value proposition mapping exercises that helped the team understand and reach alignment on:
What their customers are currently experiencing
How those desires and challenges might be addressed by a potential solution
What the product should provide in order to address the customers' needs
These exercises helped the team gain alignment on a minimum viable product or MVP.
We then facilitated discussions on 4 questions:
To whom should an MVP be tailored?
How ready (if at all) are potential customers to consume a product like this?
What are the barriers to it being viable?
What's their biggest "burning fire" or security concern?
We split this discussion between 2 groups: one for mid-sized organizations (1K-10K employees) and one for large organizations (10K+ employees). Each group identified barriers to the team's solution concept for the 2 types of organizations.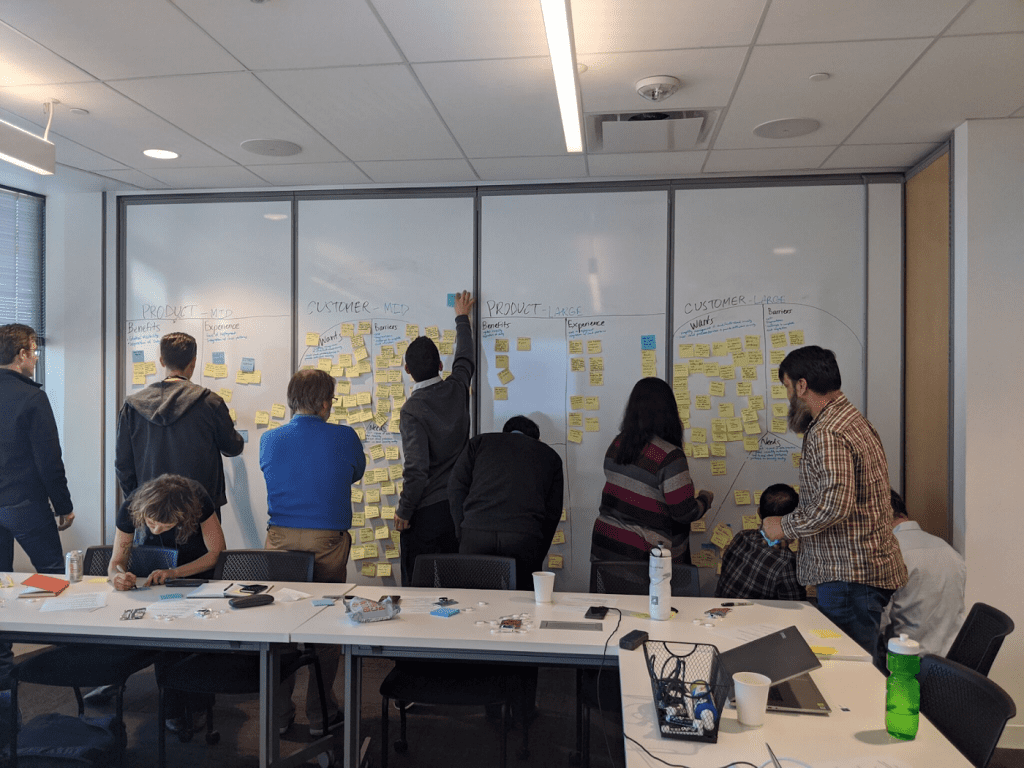 Thales product, UX, and innovation team members collaborate on value proposition mapping exercises.
Step 5: Report
After the workshop, we wrote and delivered a 13-page report to the team that:
Began with an executive summary
Covered the research goals and process
Shared basic information about interviewees and their session recordings
Documented the workshop process and outcomes
Summarized key takeaways and next steps
"Identified the Main Gaps"
While we can't share the specific outcomes, we can say that the Thales team made a number of key strategic decisions — and implemented critical changes — based on the alignment resulting from this project.
A chief data officer and innovation VP was the project's key stakeholder. After the project, he praised the "excellent research and workshop facilitation" and said the effort "identified the main gaps to focus our efforts on for the next steps."
​More Case Studies
Over 100,000 local businesses use Podium's software to manage their customer communications and payments. To help continue its growth, Podium's product team partnered with Marketade on discovery research that informed its 2022 product strategy.
BI was preparing to overhaul its enterprise software platform used by government agencies. We led a 3-phase discovery research project that included customer site visits, concept testing, and design thinking training.