B2B Software Case Study:
Software Usability Testing with Small Business Customers for Thryv
Ahead of its NASDAQ IPO, Thryv wanted to reduce churn and improve onboarding with its flagship software product for small businesses. Marketade led qualitative user research and facilitated an analysis workshop to get the Thryv team aligned on solutions.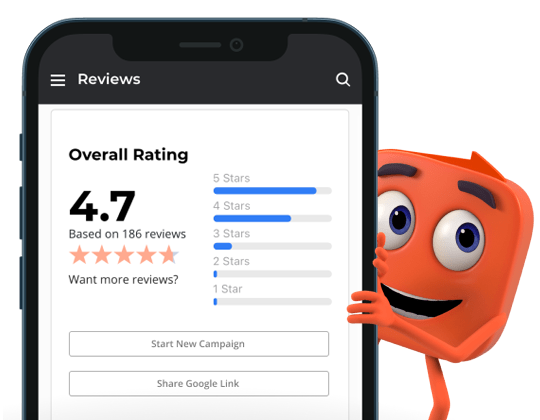 Goals
Decades back, one of the most important tools for small businesses was the Yellow Pages.
Thryv Holdings (NASDAQ:THRY), a Dallas-based company that owns the Yellow Pages and has 400,000 small business customers, has transformed its business for the digital age. Today, its flagship product is Thryv, an all-in-one SaaS platform for local businesses. SMB owners and managers use the tool to communicate with customers, schedule appointments, attract customer reviews, and more.
In 2020, after a rebrand around the Thryv product, the company went public on the NASDAQ, reporting $1.3 billion in annual revenue. Before its IPO, Thryv's product team was eager to conduct UX research and make user-centered design improvements. In particular, they wanted to:
Reduce customer churn rates
Increase feature engagement
Improve the new customer onboarding process
Approach, Phase 1: Research
Marketade led a project with 2 main phases: 1) a qualitative usability testing study and 2) a 1-day workshop with Thryv team members.
Key steps in the research phase included:
We recruited 6 research participants: 3 current Thryv customers and 3 members of the target audience.
We designed the research and wrote a 5-page research plan that included separate discussion guides for each of the two audience types.
We scheduled and moderated 1:1 remote research sessions via Zoom.
The research sessions were structured as follows:
We began each session by asking open-ended interview questions about their business and existing software tools.
We then conducted a usability test and observation session.
With current customers, we focused on each user's frequent tasks and commonly used features.
With non-customers, we watched as they interacted with a new onboarding flow.
We closed each session with a series of post-test interview questions.
Approach, Part 2: Workshop
Soon after completing the research, 2 Marketade team members traveled to Dallas, TX to facilitate a 1-day analysis and ideation workshop at Thryv headquarters. 5 Thryv stakeholders participated in the workshop; they represented these roles:
Chief Product Officer
Product Director
AVP of Strategy
Head of Research
Customer Experience Specialist
The workshop included these steps:
Workshop stakeholders spent the morning viewing recordings of the 4 most representative research sessions — 2 non-customer sessions and 2 customer sessions. As they watched the sessions, Thryv team members took structured notes on post-its.
Stakeholders chose their top 10 sticky notes and posted them on the wall.
We facilitated an affinity mapping exercise to group the findings and then vote on the highest-priority problems.
Of the top 8 problems, the team identified 6 problems for quick or straightforward fixes. We led a "lightning round" and helped the team identify a solution for each of those 6 problems.
We formed breakout groups to tackle the remaining 2 problems. These were 2 of the biggest problems and there was no quick fix for these.
Each breakout group went through a series of steps better understand the problem, brainstorm solutions, and settle on the most viable solution(s).
Each small group presented its solutions to the larger group.
After the presentations, the team engaged in a brief discussion and reached a consensus on whether to move forward with the proposed solutions and discussed the next steps.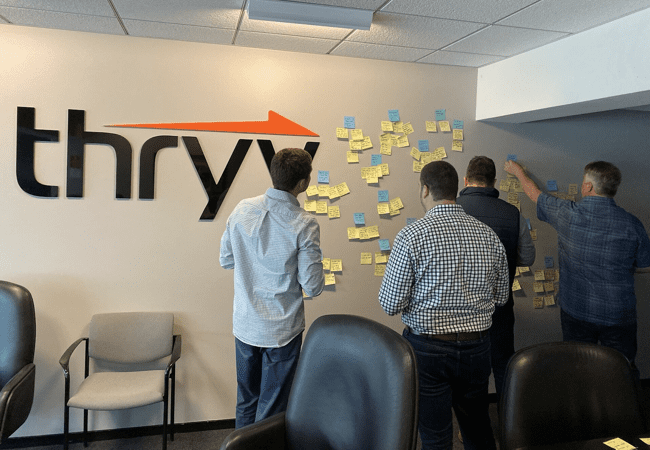 Thryv product stakeholders participate in an affinity mapping exercise to organize and prioritize UX problems.
Insight Examples
One of the Lightning Round problems was:
"I'm not sure calendar can do what I want."
The solution that the workshop team agreed to was:
Let user know Google Calendar is available for syncing.
One of the breakout group problems was:
"I don't know what happens next." Among other specific problems, users were not clear on what the outcome of the onboarding wizard process meant for them.
Below are 3 of the solutions to this problem that the breakout group identified:
Employ a more narrative-style onboarding flow that walks users through the process, potentially asking them questions as they go to draw them into more product areas.
Add large, brief text on each onboarding screen that says "Give us XYZ information so you can __________." Also including a note about how long each step takes.
Create larger, clearer, briefer in-context tool tips.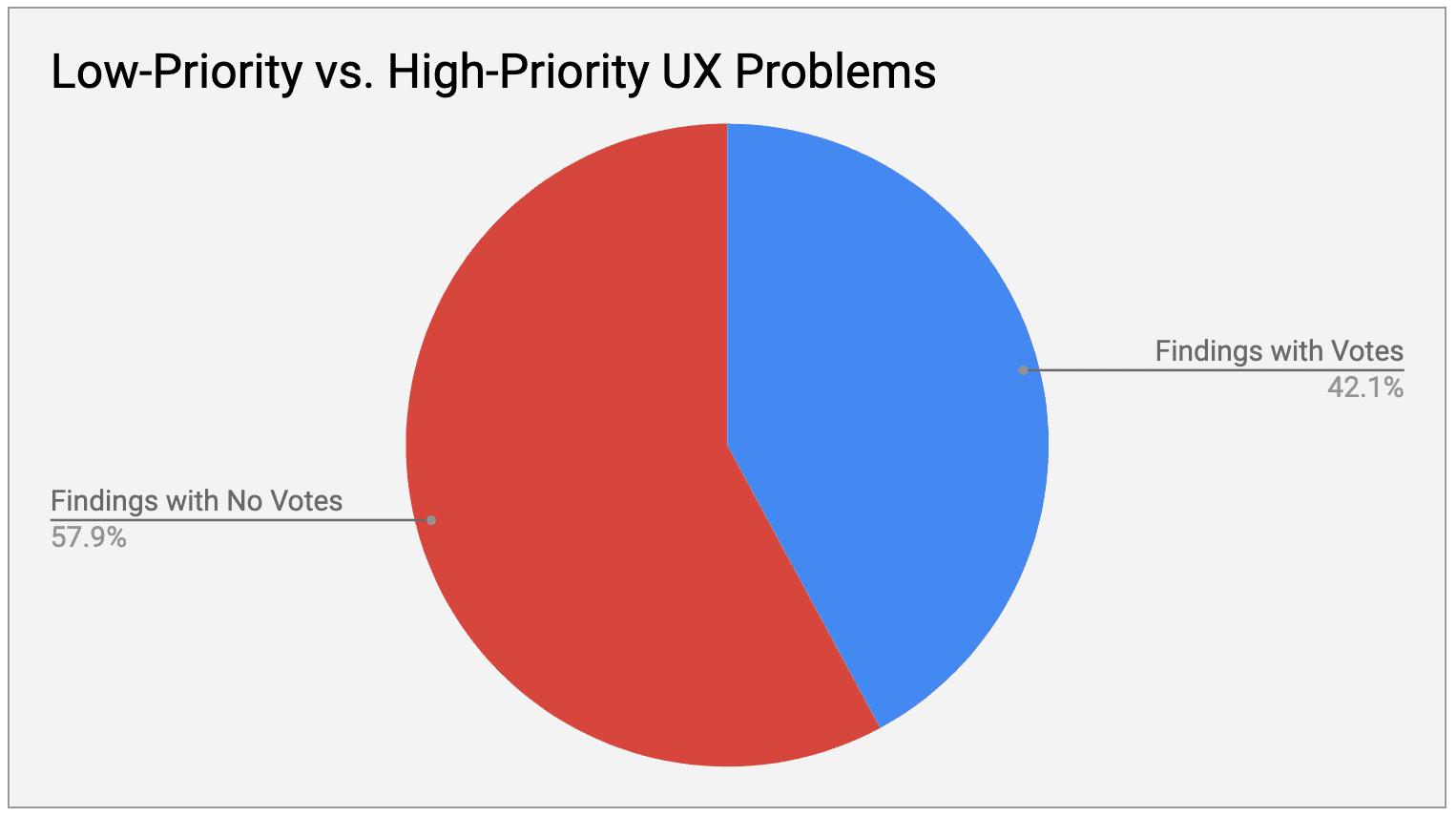 Outputs
At the end of the project, the Thryv product team walked away with:
19 total findings
8 prioritized UX problems based on team votes (out of the 19)
6 quick-fix solutions from the Lightning Round
7 long-term solutions ideas to tackle the 2 largest UX problems
5 next steps to advance the most viable solution ideas, with deadlines and owners
"The interviews were conducted really well and the workshop generated great ideas. Marketade did an excellent job! "

— James Walsh | Client Experience Specialist, Thryv
About the Project
Industry: Software
Platform: SaaS (Mobile and Desktop)
Audience type: B2B
Specific audiences: Small business owners and managers
Methods: Usability testing
Stakeholder teams: Product; research
Organization size: Over 2,500 employees
Company location: Dallas, TX
​More Case Studies
To guide a B2B website redesign, Phillip Jeffries hired Marketade to lead its first-ever usability testing study. The collaborative project led to "team alignment on how customers are using the site" and a concrete "action plan."
A B2B product team wanted to increase its KPIs through better digital content. Marketade conducted 1:1 customer interviews and led 2 workshops to analyze the research and ideate practical content ideas.
Before starting a redesign of its B2B software product, a cybersecurity company wanted a deeper understanding of its users and their pain points. Marketade led qualitative research and a stakeholder workshop that drove team alignment.