Discovery Research Case Study:
How Tonal Turned Customer Journey Mapping into a Team Sport
A fitness tech company visits its customers' homes to gain a deep understanding of their needs — paving the way for actionable personas and journey maps.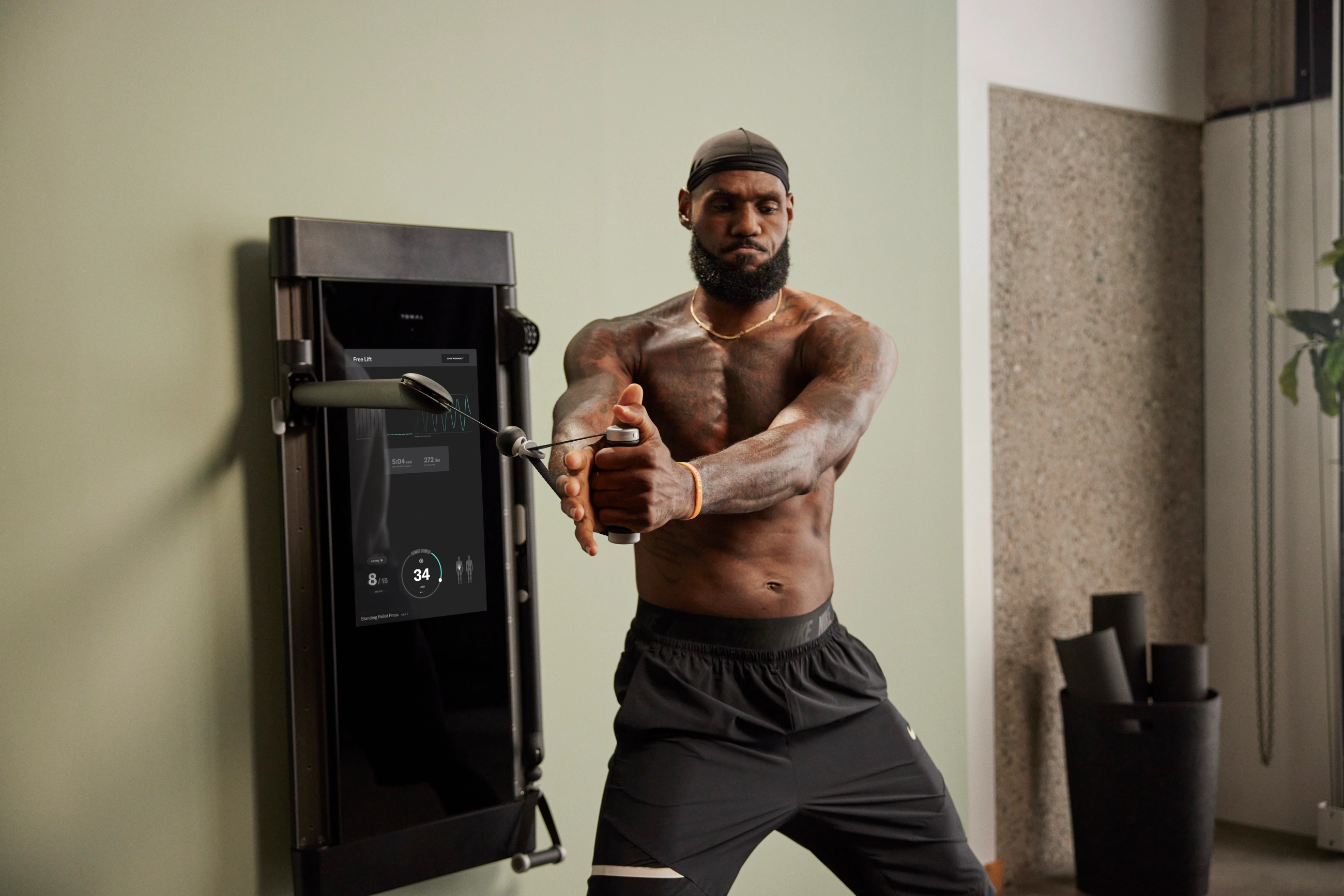 Photo credit: Tonal.com
Home Visits Before a Home Fitness Explosion
The Covid-19 pandemic sparked a dramatic increase in demand for home fitness equipment. Powered by AI and focused on strength-building, Tonal is the "smartest home gym you've ever seen," according to Men's Health. Valued at over $1.6 billion, the Bay Area company is backed by Amazon and athlete-investors like Stephen Curry, Drew Brees, Mike Tyson, and Serena Williams.
Just before the pandemic, Marketade led in-home qualitative research and a collaborative journey mapping workshop for Tonal. The project's main goal was to uncover design opportunities to improve the Tonal customer experience and lead the market on connected strength.
Related goals included:
Learn the habits, needs, and patterns of a representative customer base
Understand Tonal user fitness journeys and customer expectations
Create actionable insights to improve and iterate the product
9-Step Process
Here's an overview of the step-by-step process we used for this project. Our process is adapted from Jared Spool's "LiRPPS" approach.
1. Kickoff & Planning
We facilitated a kickoff meeting to align on project goals, roles, and measures of success. From the start, Tonal rejected the traditional user research approach — one where researchers disappear to conduct sessions in isolation and report back to the team what they learned.
Instead, Tonal embraced the idea that research works best as a team sport — and committed to actively participating throughout the process. Based on the kickoff and some follow-up conversations, we designed the research and planned the project in detail.
2. In-Home Research
In December 2019 and January 2020, we conducted in-home interview/observation sessions with 12 Tonal customers in 4 cities. We interviewed customers about their fitness history and current fitness routines, and their experiences using Tonal. We also observed them as they completed a Tonal workout of their choice.
A diverse mix of Tonal designers, product managers, marketers, and engineers joined our research sessions live — 1 or 2 at each stop — and took structured notes as they watched.
3. Workshop Pre-Work
In addition to observing 1–2 in-home sessions live, each Tonal stakeholder watched full recordings of at least 4–5 other sessions — for a total of at least 6 sessions per stakeholder.
Stakeholders tracked all of the sessions they watched in a shared Google Doc, which increased accountability, participation, and distribution across the 12 sessions.
In addition, for each session that they observed in person, stakeholders prepared a 3–5 minute verbal summary.
4. Research Review
In mid-January, the Tonal project team gathered at their Bay Area office for a 2-day workshop.
To kick off the workshop, the team:
Watched a short highlight reel of all 12 research sessions;
Presented their 3–5 minute session summaries, with different stakeholders covering the most interesting and important takeaways from a session they observed in person;
Took structured notes as they watched highlights and listened to summaries;
Collaboratively created an action list that encompassed the major themes that emerged from the research — and grouped those themes into easy-to-remember categories.
5. Persona Generation
The team broke into small groups and followed a step-by-step process to create personas based on the research. As part of the process, they identified critical information about each persona, such as goals, challenges, motivations, and other elements they deemed relevant to the problems encountered by that persona. They then picked the most critical personas.
6. Mapping the Current Journey
Drawing directly from the research they observed, small groups mapped the current journey for each persona. The maps illustrated process steps, moments of frustration and delight, goals, and pain points.
7. Sketching the Ideal Journey
Groups crafted an ideal journey that removes moments of frustration and adds elements of delight. As part of this process, each team member sketched product changes and solutions to turn that ideal journey into a reality — and received feedback on their ideas.
8. Defining Next Actions
We facilitated an exercise to define next steps required for each solution or feature that was approved by the workshop team. We assigned owners and deadlines to each action.
9. Digitized Reporting
After the workshop, we worked with Tonal and a professional designer to transform the sketches of the personas and journey maps into a more distributable format. Tonal stakeholders spent time adjusting and wordsmithing the copy, and Marketade provided visual design. We also created a final report that captured all research, workshop steps, team decisions, and next steps.
10x Growth in a Year
As Tonal's workshop wrapped up in mid-January 2020, we could feel the team's excitement and optimism about the future. Yet no one could have predicted how fast the company would grow in months ahead.
CNN reported in September 2020 that the "company's business is performing over '10x' compared to one year ago," based on an interview with Tonal's CEO Aly Orady. "We're well over $100 million run rate in terms of our sales momentum," Orady told CNN. "We're expecting a really, really sizable holiday season."
The company's business is performing over '10x' compared to one year ago.
The pandemic gets much of the credit for Tonal's phenomenal growth in 2020. Yet plenty of companies in "fortunate 2020 industries" failed to grow, especially as opportunistic competitors jumped into their space.
Tonal capitalized on its opportunity in part by being a deeply customer-centered company. Plenty of companies claim to know their customers because they send surveys or run focus groups or create journey maps based on big data. Usually, their understanding is shallow and misleading.
With this project, Tonal took a different approach. As a home fitness company, they knew they needed to go into customers' homes — one at a time — to truly understand their journeys and pain points. They also knew that paying a consultant to do the research and map the journeys wouldn't do the trick. So they sent team members out to 4 U.S. cities to gain direct exposure to customers. Then they carved out 2 days to come together as a group, align on the research, and build actionable journey maps.
With this shared customer understanding and action plan, the team was well prepared for the challenges and opportunities that 2020 would bring.
About the Project
Industry: Fitness; Technology
Platform: Digital product
Audience type: Consumers
Specific audiences: Tonal customers
Methods: Home visits; contextual interviews and observation
Length: 2 months
Stakeholders: Product team and design team
Company size: 465 employees
Company location: San Francisco, CA
​More Case Studies
We conducted 10 contextual interviews with customers of Herman Miller's Design Within Reach furniture brand. Later we facilitated a 1-day workshop to generate personas and innovation opportunities.
A top moving company interviews customers to understand their journeys — and collaborates to identify big innovations and small wins.