UX Research Case Study:
Prototype UX Testing with Kids & Parents for PBS
PBS was exploring a new user experience flow for its digital products used by young children. We led qualitative user research with 12 pairs of parents and children and facilitated a collaborative analysis workshop.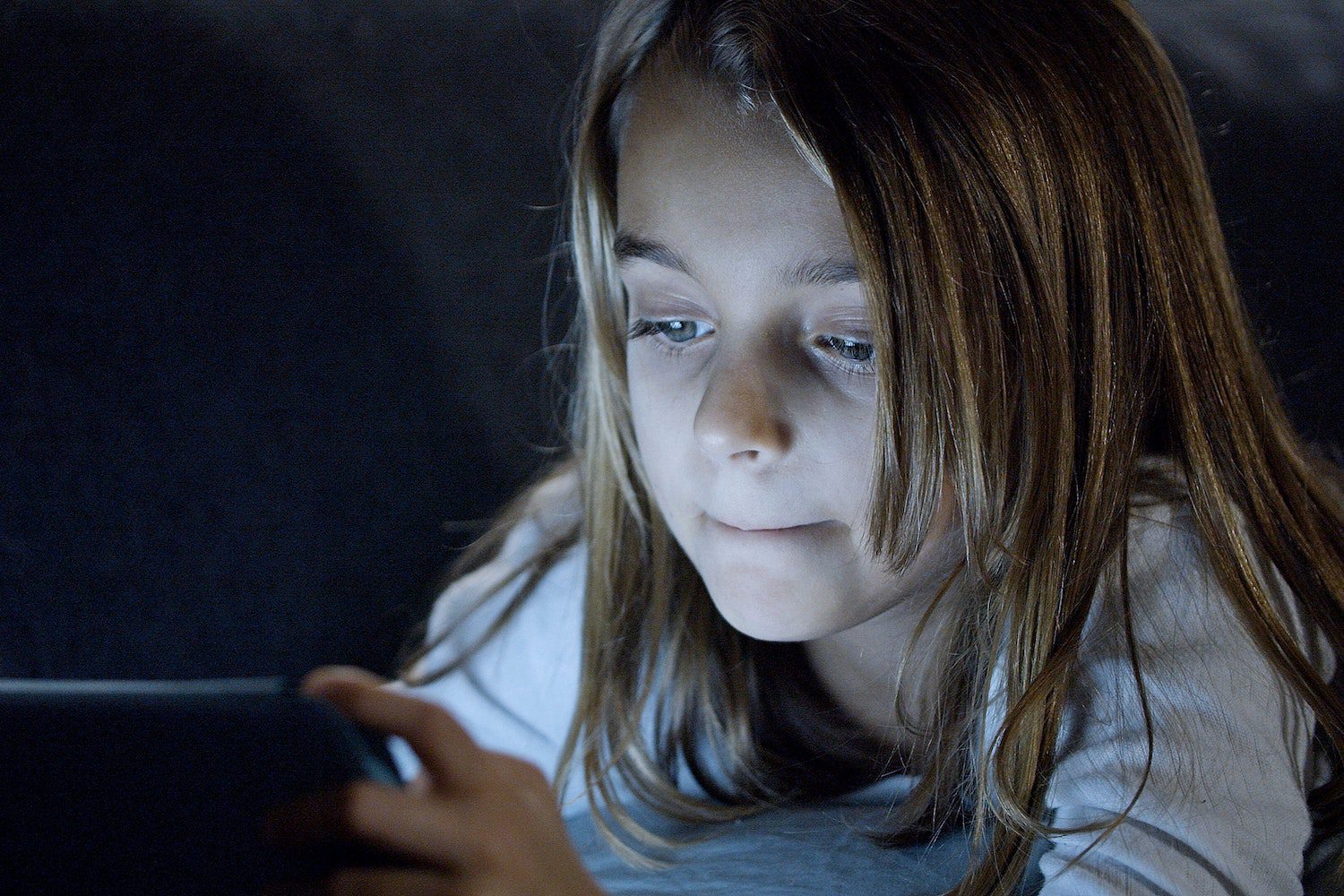 Background
As in-person classrooms closed early in the Covid-19 pandemic, digital tool usage surged among children, especially for education-focused apps and products.
By the summer of 2020, PBS and a technology partner team were exploring a new user experience flow that a number of its children's apps could use. The team had prototyped a few approaches and was eager to test these concepts with parents and young kids. The team also had questions about the online habits of young kids that they hoped user research could help answer.
The team needed a partner to lead end-to-end qualitative user research, from strategy to implementation.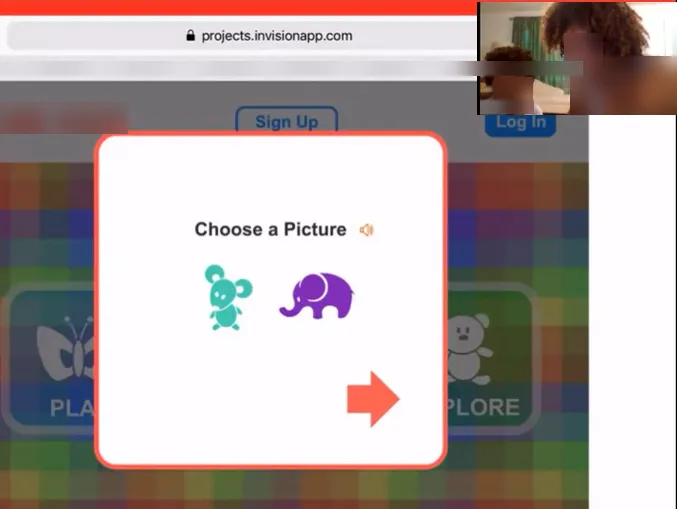 Approach, Part 1: Research
Marketade led a 2-month research project in which we:
Designed and planned the research
Recruited 12 parent/child dyads (children 3-6 years old)
Moderated the research sessions
Designed and facilitated a 1-day analysis workshop
Wrote a 20-page summary report
Each stage of this project was more challenging than a typical research project because:
We needed to interview, observe, and capture insights for 2 distinct personas in parallel
One of those personas was a child 3 to 6 years of age
Consent and privacy were particularly important given the participation of young children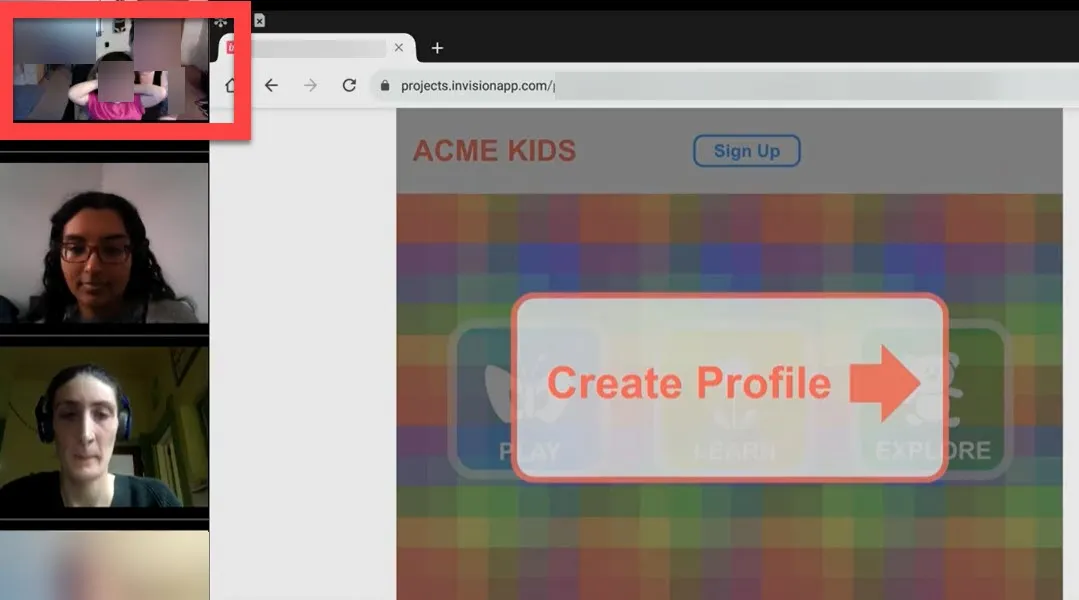 Our researchers moderate a session with a 5-year-old and his parent.
Here are some additional details on our research process along with some of the hurdles we tackled:
We recruited participants from a quantitative survey that had previously been conducted with parents of young children. We worked hard to have clear messaging in our recruitment materials about the need to have both the parent and their child in the interview.
We designed a 60-minute interview script that enabled us to toggle between the parent and child with our questions and tasks. Given the shorter attention spans and restless nature of many young children, we were careful to limit the amount of time that kids were "on" during the sessions.
We also shared guidelines upfront to get help from parents when we needed it while limiting the potential for parents to answer for their kids.
We tested our script in pilot sessions with 2 parent/child dyads and updated the instructions and questions based on what we learned.
During the sessions, the pairs interacted with the 3 InVision prototypes. For 2 of the prototypes, we asked children to show us what they would do and attempt to move through the screens on their own, with support from the parent as needed. For the 3rd prototype, only the parent interacted with the designs.
Approach, Part 2: Workshop
After the research was complete, we facilitated a remote collaborative analysis workshop to identify and prioritize findings and brainstorm the ideal user experience.
Project stakeholders were tasked with watching at least 4-6 recordings of the research sessions prior to the workshop day. They were assigned specific videos and given guidelines on how to take notes on what they observed.
At the start of the workshop, we led workshop participants through a series of steps to capture and prioritize user feedback. Stakeholders …
Determined which notes were most relevant to the research questions and each posted up to 20 notes on a virtual whiteboard in Miro (one observation per note).
Reviewed the shared notes and sorted them into groups based on common themes.
Voted on which groups (i.e. findings) were most critical to address that day.
Categorized groups into 2 lists based on 2 focus questions.
Prior to conducting the research, the client provided a list of 24 specific questions and hypotheses they sought answers to. Marketade provided answers to those questions, and spent time during the workshop sharing and validating those answers with the team.
Following the analysis exercise and discussion of the 24 specific questions, we discussed answers to the 2 primary research questions of the project.
We then posed a new focus question to the team to help direct solution ideation, genericized as follows: "How can the new PBS [experience flow] meet parent needs and goals to [perform the task]?"
For 5 minutes, everyone silently brainstormed as many solution ideas as possible for this question. This rapid exercise allowed individuals to spend time brainstorming independently before coming to a group discussion.
Next, we gathered for a group discussion. We used a storyboarding exercise to ideate how to make managing children's digital identities as easy as possible for families. A storyboard is a visual representation of a narrative, specifically the "stories" of account creation for families. It helped us imagine an ideal but concrete world in which these families are operating.
We built 2 storyboards with pre-written start and end points. The team ideated the steps in between these start and end points to illustrate ideal narratives.
Finally, we identified immediate next steps and captured them in a table. We formatted action items by stating who would complete the action, what the action was, and when it should happen.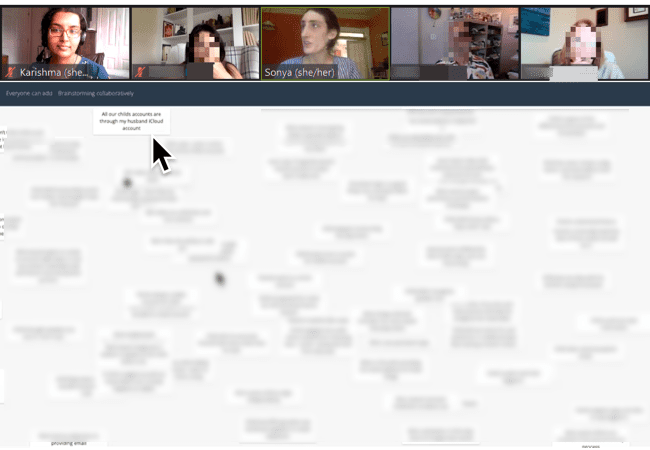 2 of our researchers facilitate an affinity mapping exercise during the analysis and ideation workshop.
Outputs
After the workshop, we delivered a 20-page report that captured the research process, answers to the client's 24 questions, and workshop steps and outputs.
In the end, this qualitative research project uncovered key insights from both parents and children. It enabled a diverse team to ideate the ideal flow from parents hearing about a PBS product line to their child happily using the product. And it identified concrete next steps that the technology team could take to move closer to the ideal flow, supported by the research and workshop.
After the project, stakeholders shared the following feedback:
"The affinity mapping was quite useful and amazing in its ability to focus main findings."
— Member of design team
"This was great. Facilitators were very prepared with each step, moving step to step without any hesitation. I think the work we did really captures the assumptions we have spoken about and is putting it to paper."
— Member of marketing team
"Very goal oriented with a solid end product."
— Member of research team
"We found the team to be highly qualified, responsive, and an all around pleasure."
— Project lead (see full review on Trustpilot)
​More Case Studies
This top player in early childhood education wanted to improve the web user experience for prospective parents. We ran moderated UX testing with 10 parents and led a 1-day ideation workshop with marketing and design stakeholders.
A team at AARP was eager to increase adoption and engagement for a new life management platform. Marketade combined usability testing and a heuristic evaluation to identify UX improvement opportunities.