Remote Design Sprint Facilitation Services
NOTE: Marketade only offers design spring facilitation as part of larger user research engagements — either through a project with discovery research or UX research or through an ongoing research program. We no longer offer design sprints as a standalone service.
Interested in running a design sprint for a challenge your organization is facing? Whether it's a 5-day Google design sprint or a custom variation, our expert facilitators can help you get the most from your sprint. See why teams at GEICO, AARP, and Herman Miller trust us to lead critical sprints and workshops. And as a fully-remote team for 11 years, we are experts at virtual collaboration.
How PenFed Used Sprints to Tackle Critical Business Challenges
We recently facilitated two 5-day design sprints for PenFed Credit Union. Headquartered outside of DC, PenFed has over 1.8 million customers across 50 states.
In their first sprint, PenFed focused on a new customer onboarding challenge that was a companywide focus. The previous application presented a fragmented experience, leading to high abandonment and lost revenue. PenFed gathered a diverse 9-person sprint team that included 2 executives (the "Deciders") as well as members of marketing, design, IT, and call center operations.
Over 1 week, we led the team through a series of exercises including discovery, journey mapping, ideation, sketching, storyboarding, prototyping, and usability testing. By the end of the week, the team had prototyped an innovative onboarding flow, tested it with real customers, iterated the designs, and roadmapped the implementation steps.
A few months later, just as PenFed was finishing an MVP from its 1st sprint, we facilitated a 2nd sprint to tackle another major business challenge: how to better support deployed military members. New sprint team. Similar process. Same impact:
Cross-team collaboration
Training and excitement around design thinking
More innovation and iteration in 1 week that most teams achieve in 1 year
Real change in both the customer experience and organizational culture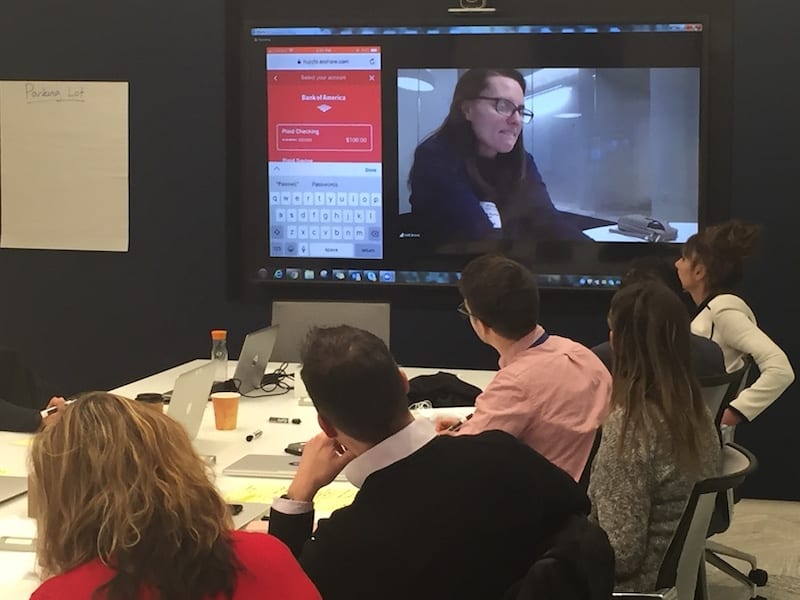 "Set the stage to disrupt the culture of the entire organization by introducing human-centered design."
Our Sprints in Action
See some of the key steps from our standard 5-day design sprints, which follow closely from the Google Ventures sprint model.
Pre-Work: Research
Prior to the sprint week, we conduct up-front research related to the challenge. You'll review it as homework or on the 1st day of the sprint.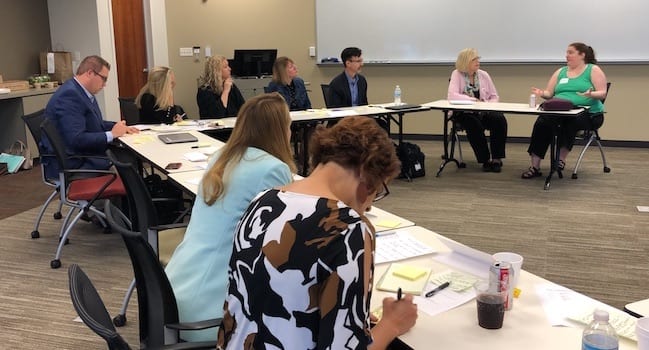 Monday: Map
Set a goal, listen to target users, map the current user journey, and interview subject matter experts within the organization.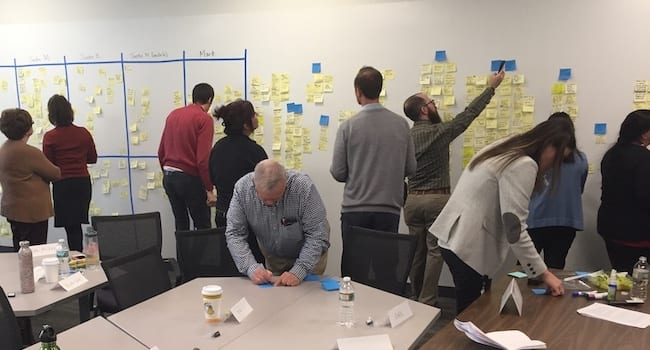 Tuesday: Sketch
Look outside the organization for inspiration, then brainstorm and sketch solutions to the problem.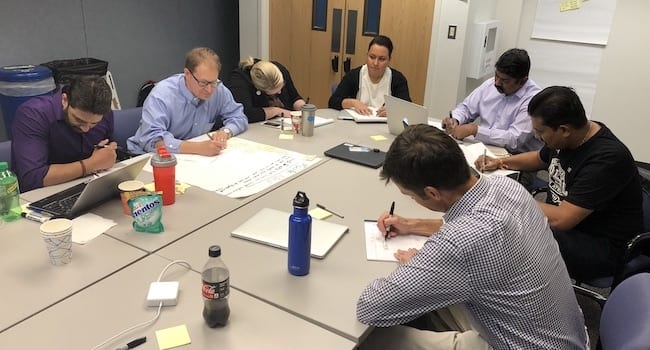 Wednesday: Decide
Pick one or more solutions to move forward with, then turn the winning solutions into a storyboard.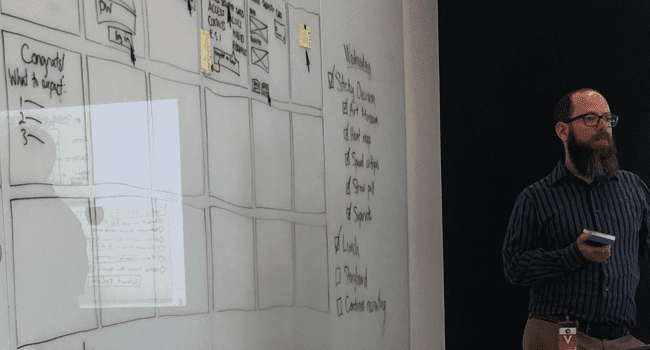 Thursday: Prototype
Create a working prototype of the concept.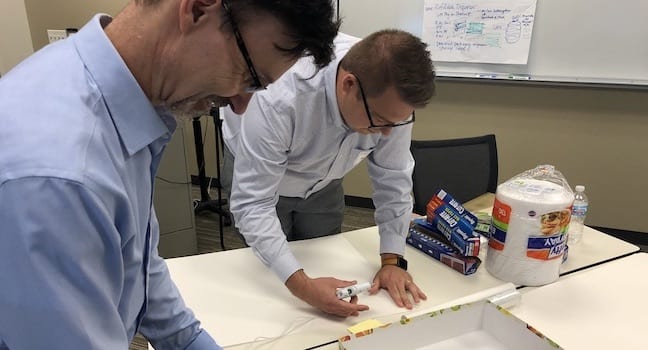 Friday: Test
Test the prototype with representative users, analyze the results of the testing, and plan next steps.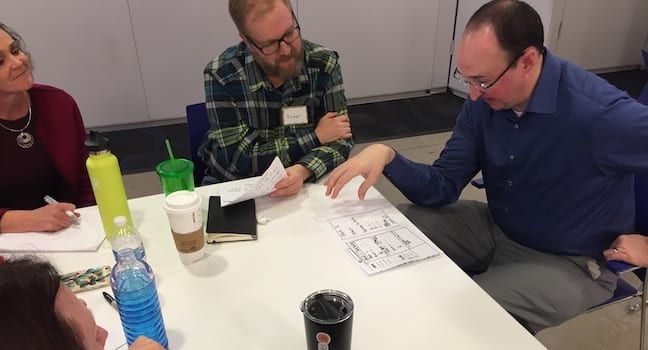 "A fantastic little agency that does amazing work."
We don't skip upfront research.
If you follow the Google sprint by the book, your team doesn't get direct exposure to users until the last day of the sprint. That's too late in our book. That's why we lead pre-sprint user research and ensure your team has time to observe it in depth. This makes a huge difference at each stage of the week, and leads to better outputs at the end.
We are facilitation experts.
Every member of our small team is a hybrid researcher-facilitator. On any given week, we spend much of our time 1) designing/conducting research and 2) facilitating workshops. It's hard to find a skillset better suited to design sprints. While sprints are among our favorite type of collaborative workshop, we constantly experiment with many other collaborative approaches. We bring that experience to your sprint, and constantly adapt our facilitation based on your particular needs.
We are nimble.
We've been in your shoes. We've worked with arrogant, slow and overpriced agencies and workshop facilitators. We launched Marketade to be the consultancy we'd always wanted when we were the client: humble, nimble and value-focused.
5 Sprints in 10 Days for a Fortune 500 Company
Challenge: Aggressive Deadline for Roadmaps
The director of the mobile app team for a major consumer brand challenged his staff to create a product roadmap for the coming year — one that would push the boundaries of mobile user experience in their industry.
The director provided his team with 5 rough areas to work in — such as customer onboarding and virtual assistance — and broke them into 5 working groups. Each group should generate product innovation ideas and draft next year's roadmap for its area. The catch? All 5 roadmaps needed to be ready within a few weeks.
Action: 2-Day Design Sprints, Driven by Research
Marketade designed and facilitated 5 two-day sprints — one for each working group — that used a customized, compressed version of Google's 5-day design sprint. We used multiple facilitators and overlapping sprint schedules to complete all 5 sprints within 2 weeks.
Here are 2 key ways that we adapted the process to meet this team's unique needs:
Upfront user research. 2-day sprints are tough to pull off in the best of circumstances. To make them work here, we quickly recruited users and conducted interviews before each sprint started, and then share extended excerpts of that data early on Day 1.
Prioritization exercises. Based on storyboards created on Day 2, teams identified the features and functionality they would need to design, test and build to realize their product vision. We finished the sprint by leading them through a "bang vs. buck" exercise that allowed us place those features into prioritized buckets based on estimated effort and impact.
Result: Rapid Roadmaps, Repeatable Process
Within 10 days, these 5 teams had achieved what a couple weeks earlier was unthinkable: long-term starting visions and short-term roadmaps for their product area. More importantly, they'd learned the power of collaborative, structured brainstorming grounded in early user research.
These visions and roadmaps would change over the coming weeks and months, but they jump-started a series of mobile product improvements that otherwise might never have happened.
The sprints were so well received that the company invited us back to lead the same process for the mobile team the following year. Two years later, with the help of some of the initiatives that started as a sketch back in those first sprints, the company's mobile app won a Webby Award in its industry.