UX Audit Service for Websites, Software & Apps
Looking for an expert-led user experience evaluation or usability audit? Our nimble consulting team can lead an actionable, research-driven UX review of your website, software or app. See why teams at the United Nations, GEICO and AARP work with us to spot opportunities with their digital products and systems.
How a Holistic UX Evaluation Helped BI Transform Its Enterprise Software
For 40 years, Boulder-based BI Incorporated has been the leader in electronic monitoring products and services. It has grown to over 1,000 employees and works with 1,400 government agencies at the federal, state and local levels.
BI recently partnered with Marketade to conduct a comprehensive user experience evaluation of its enterprise software platform, TotalAccess. Over 4 months, we led a 3-phase project:
1. Assess Current Experience
We visited 3 customer sites, observing and interviewing 3 core user groups to understand their experience with the software. We then led a 1-day workshop to align on the 3 biggest UX problem areas, and to generate solution ideas for each.
2. Prototype & Test
We quickly prototyped the top solution ideas from the workshop. We then visited 2 new customer sites and tested the concepts with 12 users in 1:1 moderated usability sessions. In a second 1-day workshop, the BI team watched and analyzed the research and identified problems, solutions and next steps with the concepts.
3. Expand & Train
We closed the project by conducting a heuristic (expert) review of the software and by leading a 1-day design thinking training workshop for about 50 BI developers. The expert review allowed us to move beyond the biggest UX opportunities and tackle the remaining tasks and flows in this complex software. The developer training ensured that BI was empowered to implement the UX directions that came out of the project, and to bring a human-centered approach to future iterations of the software.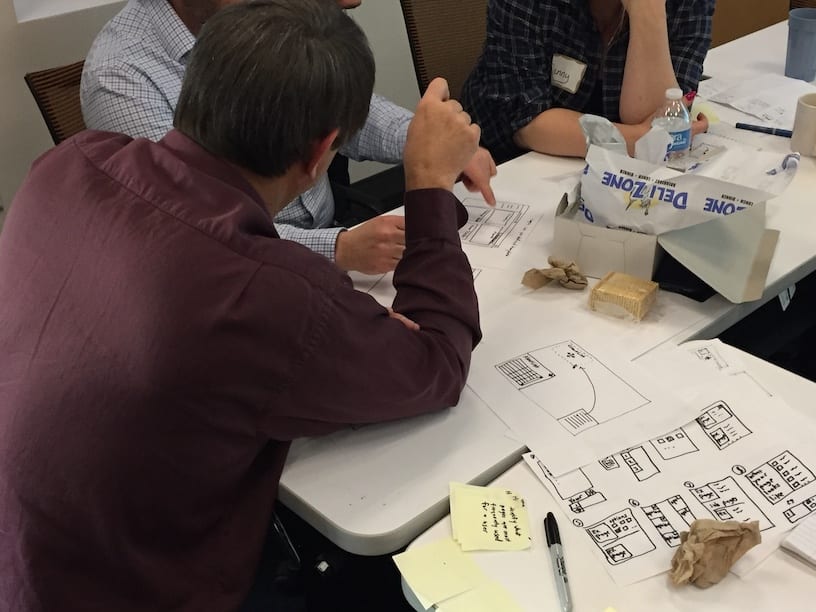 "Fantastic. I loved the the process to brainstorm at a very abstract level and then quickly distill that into real action items."
United Nations
Led a research-based UX evaluation of 3 data platforms used by government agencies in over 200 countries. Moderated UX test sessions with 10 global users. Analyzed analytics data. And facilitated a 1-day workshop that ended with solution sketches. Read the case study.
Aggreko
The world's largest temporary power company was seeking a UX evaluation of its new site for heavy equipment rentals. We led a heuristic evaluation that uncovered 34 improvement opportunities. Read the case study.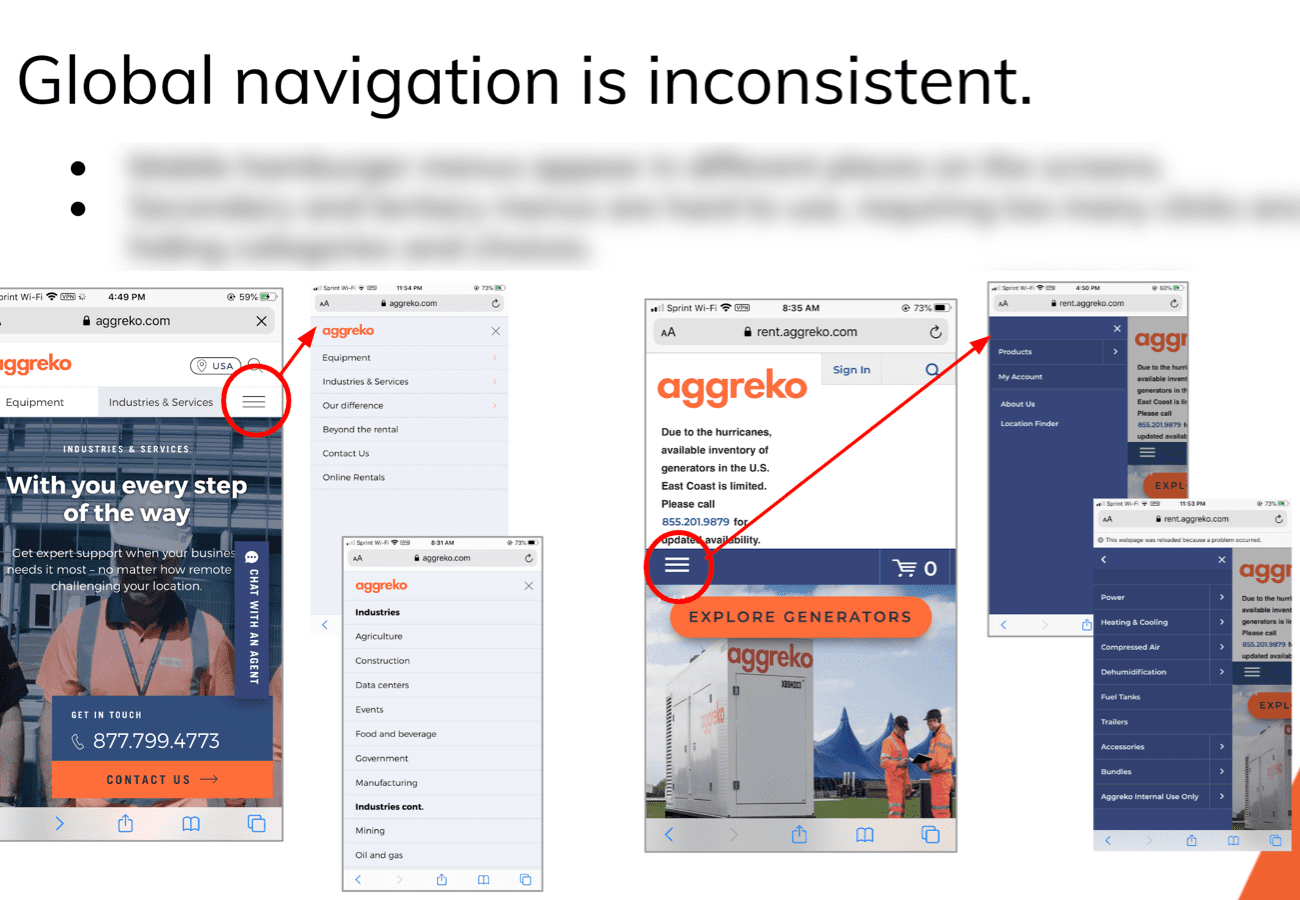 Epsilon
Partnered with this top-5 ad agency to conduct UX audits for a top 20 global pharma company. Evaluated 2 consumer websites and 2 professional sites. Prioritized 100+ recommendations. Read the case study.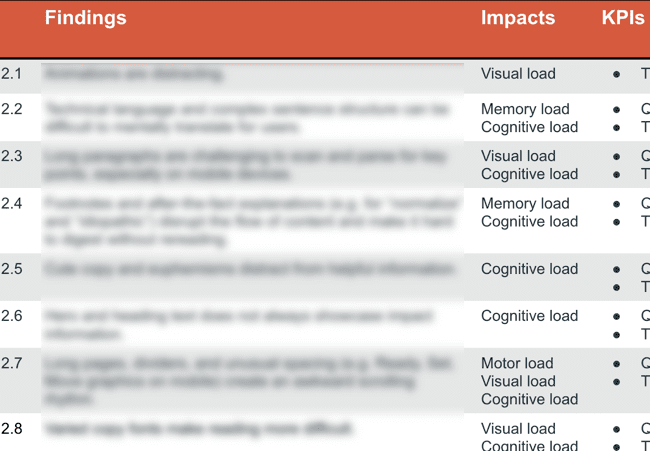 AARP
Conducted 8 usability test sessions for an AARP web property — with a mix of desktop and mobile users. Supplemented this with a heuristic evaluation. Identified and prioritized 24 UX issues, and provided recommendations for each. Read the case study.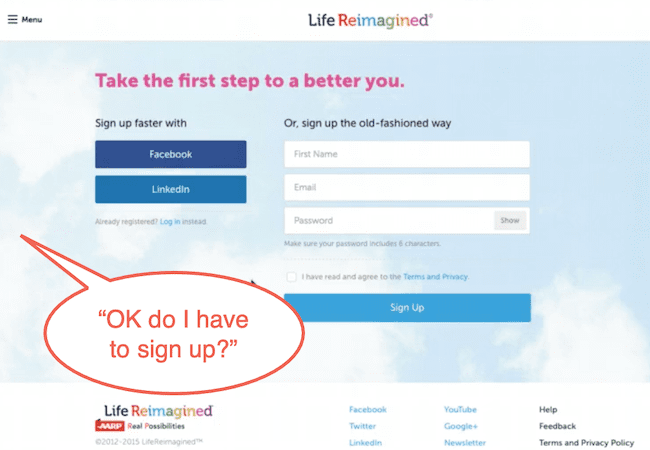 Research-Based Collaborative Audits
Here's how most UX audits work: a consultant disappears for a while, reviews your site or application based on best practices, and returns with a report.
At Marketade, we use a different approach:
We conduct qualitative research where we observe and interview representative users as they interact with your product.
We lead a workshop where your team watches the research and participates in a series of exercises to analyze, align, and act on the data.
We send a report that summarizes the research and prioritizes workshop outputs.
"Settled matters we would otherwise debate endlessly."
Seeing is believing
Watching users struggle has a huge motivating impact on designers, developers and stakeholders. But a few clips in a report doesn't cut it. Watching full sessions throughout a morning does.
Alignment is really hard
Watching users and analyzing data together has a magical power: it builds a shared, objective understanding about the biggest problems worth solving. This saves you a ton down the road by reducing rework, delays and failed launches.
You are the experts
We see it over and over … your team's solutions beat a UX consultant's ideas. But only if you watch users in depth and go through a rigorous analysis and ideation process. That's the biggest value we bring — not our solution ideas.
Data to deadlines in a day
We know how hard it is to turn research into changes that launch. That's why our workshops don't end until every top solution has a next step, an owner, and a deadline. Going from messy data to clear next steps in 1 day builds excitement and momentum.
"Working with Marketade has been an amazing experience. I highly recommended them to anyone!"