User Research Training for Corporate Teams
Marketade offers team training services as part of ongoing user research partnerships with product and UX teams.
We teach product and UX teams how to conduct usability testing, user interviews, and more. Team members with little or no research experience learn how to plan, recruit, moderate, analyze, and act on the insights. We also teach teams to run their own workshops for analysis, ideation, and design thinking.
These training sessions lay the foundation for a scalable, team sport research approach used by Fortune 500 companies.
In-House UX Research Training in Action
BI, Incorporated
1-day UX research and design thinking training workshop for 50+ enterprise software developers across 5 scrum teams. On site outside Denver. Learn more.
PenFed Credit Union
Usability testing training for a diverse 10-person team from IT, marketing, UX/product, customer support, and leadership.  On site in Virginia. Learn more.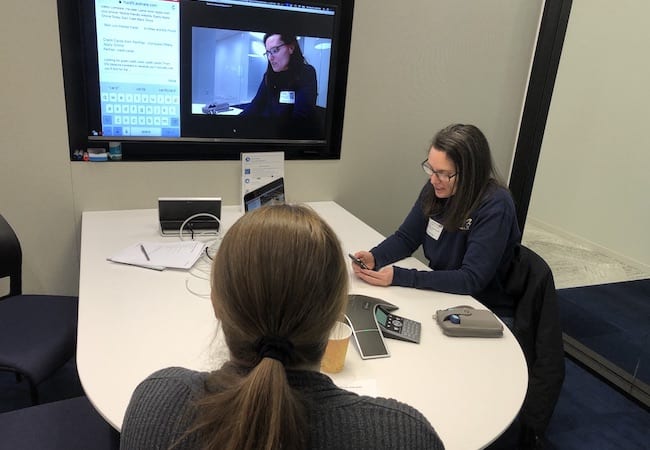 GEICO
Training on rapid UX testing and paper prototyping for a team of designers, researchers and digital project managers. On site outside Washington DC.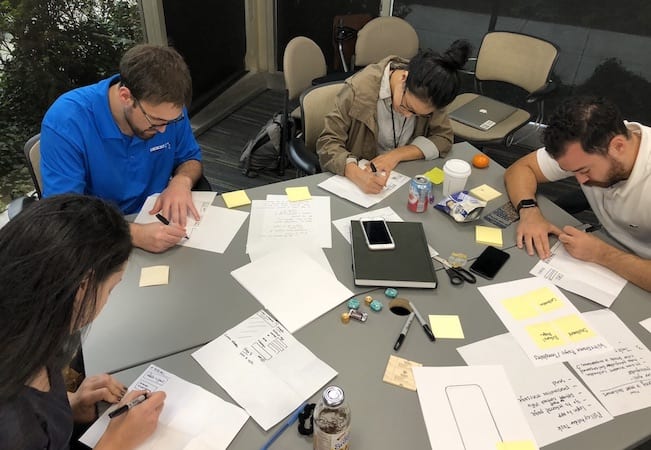 "Working with Marketade has been an amazing experience. I highly recommended them to anyone!"
Learn Our 5-Step Research Process
We've experimented and refined our approach in hundreds of research projects over the last 10 years. We'll teach you our best tools and tricks in 1 or 2 days.
Plan
Learn to write a research plan that includes goals, recruitment criteria and a moderator guide with tasks and questions.
Iterate
Make your research immediately actionable by learning to ideate, sketch, solve and iterate based on what you've observed.
Analyze
Learn to observe sessions and take notes like a researcher. Get our "team sport" analysis and alignment playbook.
Recruit
Overcome the biggest barrier to conducting research by learning how to source, screen, select and schedule participants.
How BI's Developers Learned Rapid UX Research in 1 Day
In February 2019, Marketade led a 1-day training workshop on UX research and design thinking at BI Incorporated's headquarters near Denver. The audience was 50+ enterprise software developers and QA engineers, 4 product managers and senior IT management.
Prior to the workshop, most audience members had never watched a UX research session. By the afternoon, they were running usability tests on their own designs (sketched minutes earlier), with real users.
Training topics included:
Design thinking principles
Rapid sketching and prototyping
Writing a usability test script
Moderating UX research
Aligning on research findings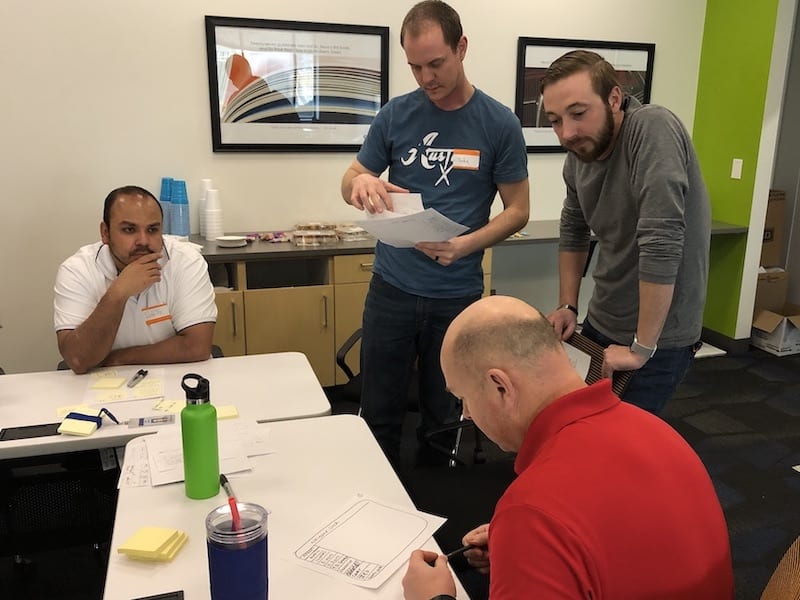 Sketching & Prototyping
After a round of "Crazy 8's" — where each person sketched 8 design ideas in 8 minutes — teams collaborated to create interactive paper prototypes.
Writing Scenarios & Tasks
Teams developed a usability test script that included interview questions, a scenario and key tasks. They learned how to avoid common mistakes.
Conducting Test Sessions
Teams tested their paper prototypes with representative users. Each team member played a unique role (e.g. moderator, wizard, note-taker).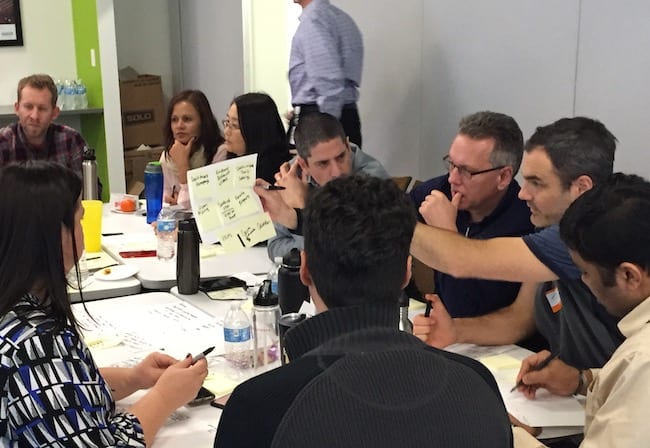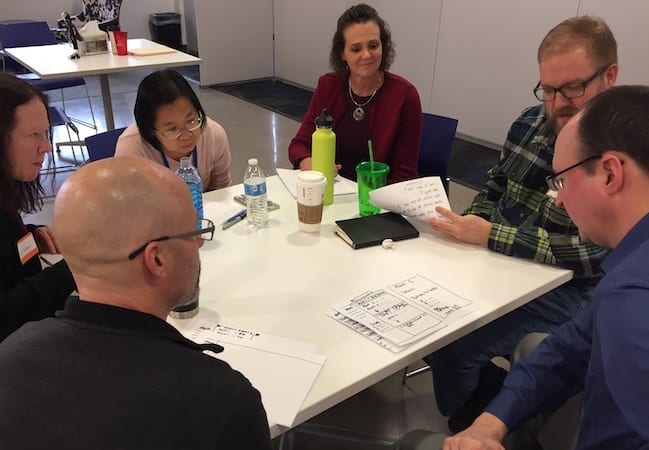 "Great team of professionals who really understand this space and how to make real progress."
Teaching Usability Testing to a Diverse Team at PenFed
In March 2019, Marketade led a usability testing training session at the PenFed Credit Union headquarters outside of Washington DC. This session was part of a week-long design sprint that also featured training exercises on journey mapping, sketching and prototyping, and other human-centered design techniques.
The 10-person team included executives, product managers, IT managers, designers, marketers, and a customer support manager. UX research training topics included:
Creating research scenarios and tasks
Writing recruiting ads and screeners
Turning meeting rooms into an on-site usability lab
Moderating UX research
Observing, note-taking and analyzing
Iterating designs between research sessions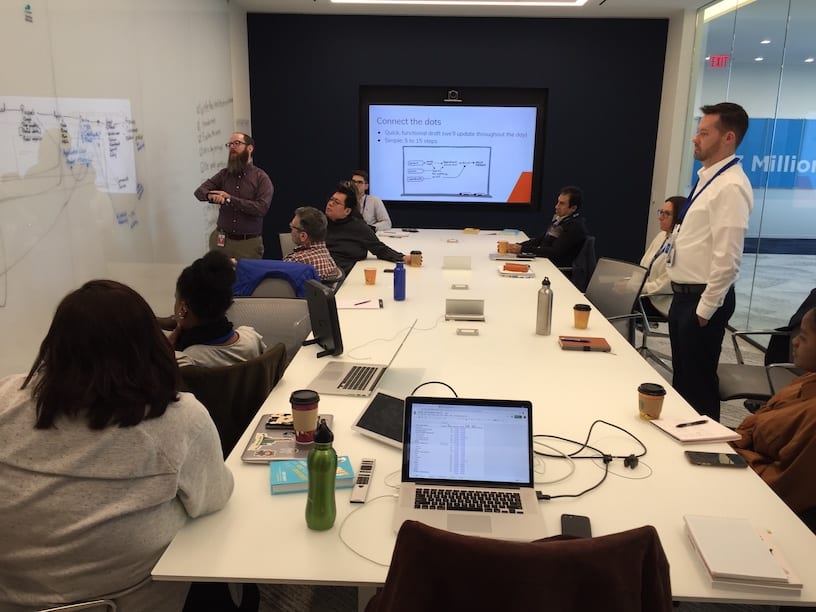 Practicing the Script
An analyst, engineer and marketer practice the moderator script the day before real participants come in.
Moderating In Person
A data analyst moderates her first usability testing sessions with real customers.
Observing & Note-Taking
Down the hall, the team observes sessions live and takes notes on post-its, using techniques learned earlier.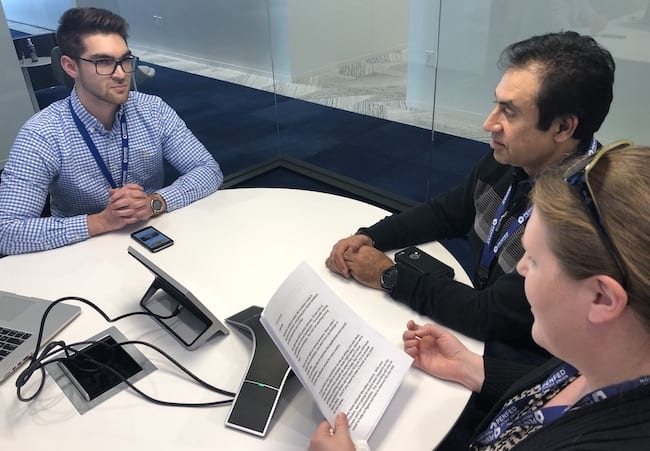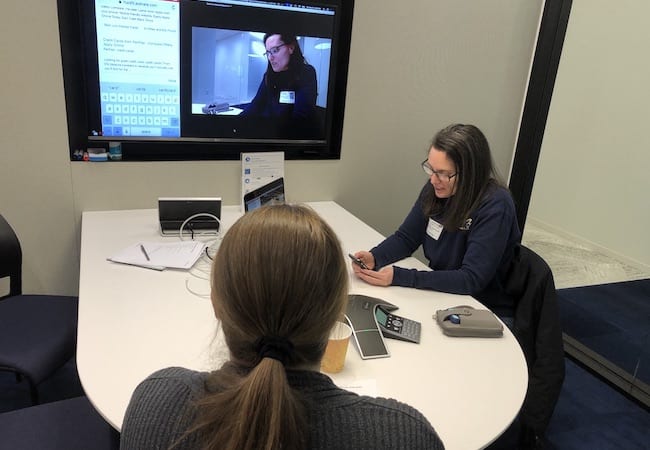 Analyzing as a Team
The team learns collaborative techniques to organize, label and prioritize research findings.
Rapid Iteration
Based on early problems spotted, two team members make quick design and copy changes in the short windows between sessions.
More Testing
The team learns the benefits of testing early and iterating often with small batches of users.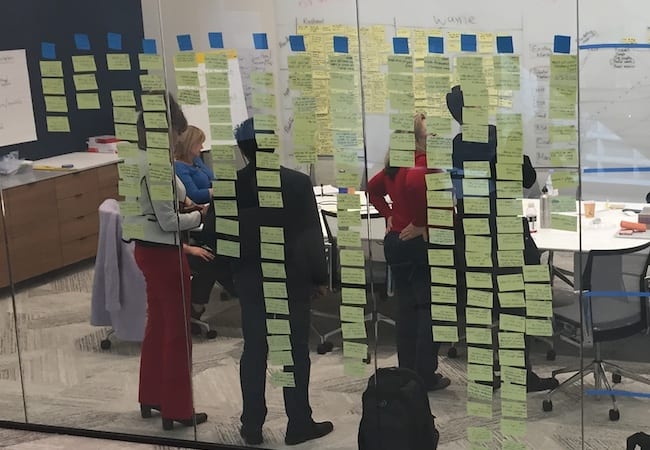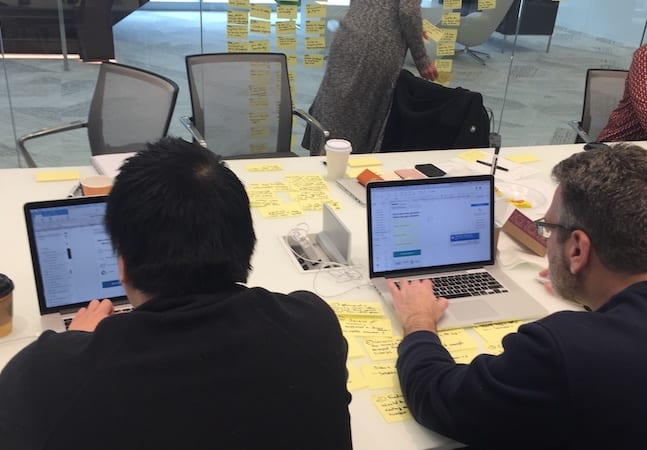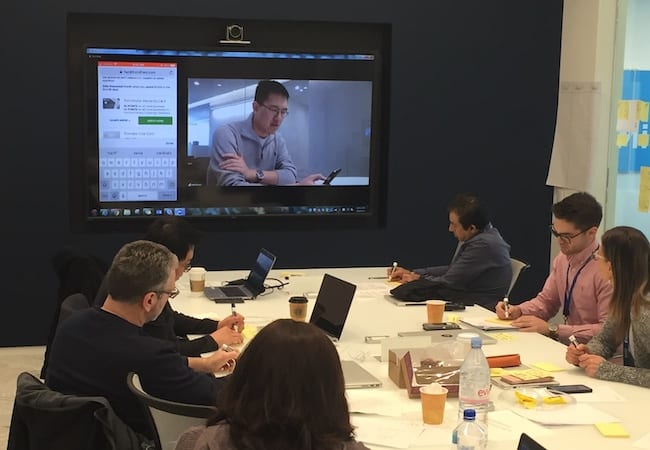 "Set the stage to disrupt the culture of the entire organization by introducing human-centered design."
"I loved the interactive nature and really valued the consumers who came in."