2019 was Marketade's most exciting year in its 10-year history.
Here's a look back at some of our favorite projects last year, along with 5 approaches your team can use to boost its innovation in 2020.
The magic of team sport research and innovation
Across all types of organizations, teams make most of their decisions based on wrong assumptions about their customers. Those decisions lead to wasted investments, product failures, and frustrated customers.
Working with teams to improve this situation is what gets us up in the morning.
In a nutshell, we help teams innovate successfully by understanding their customers' pain points.
We do this with a unique "team sport" approach.
Through years of experimentation, we've learned that magical things happen for our clients when we:
Get a diverse team together in a room for a day;

Have them watch and listen to their customers in depth; and

Go through a series of steps to collaboratively analyze the data and sketch ideas.
The teams come away humbled (by how wrong their assumptions were) and energized (by how big the opportunities are). Teams that felt stuck suddenly have lots of great ideas — and alignment around them.
Most importantly, the teams take action after we leave, in ways we never saw when we used the traditional approach: doing all the research and analysis ourselves and sending over a report with recommendations.
When this team sport approach goes really well, the team shares the process with other teams, the process becomes a habit, and the organization's culture transforms to be truly customer-centered and innovative.
This approach works for any business challenge
Since turning our focus to user research, our most common type of project has been usability testing of software or apps or websites.
We did lots of usability projects in 2019 — including for new clients like UVA, United Nations, and Yellow Pages — and we continue to love this work. But part of what made 2019 so exciting was that we pushed our approach into new areas, and proved that it works for any type of business, team, and challenge.
Here are some of our favorite examples from last year, along with some approaches you can use with your team in 2020.
1. Boost your team's innovation skills.
Our work with Reynolds — makers of Reynolds Wrap and Hefty — proves that any group, even busy executives, can quickly embrace rapid experimentation driven by research. 
We led a 2-day design thinking workshop with a leadership team tasked by the CEO with increasing innovation in 2019. By the end of day 2, the team took product concepts they'd prototyped that afternoon, and tested them with customers. "Really practical and applicable" is how the CFO described it.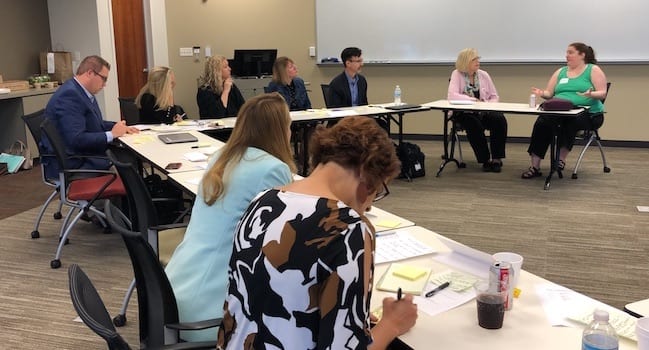 2. Pick the right product or service to build.
Teams often think to do user testing after they've launched a new product. Our work with Thales — an 80,000-employee multinational based in France — shows that the more powerful time to do research is before you've decided what to build.
The product and design teams at Thales were humble enough to spot their assumptions about problems facing their customers, and about solutions that might have a market. Through ongoing market validation research, we're helping them test these hypotheses with customers, and quickly pivot to new ones. Now, by the time they invest in building a new enterprise security product, they can be more confident it will hit the target.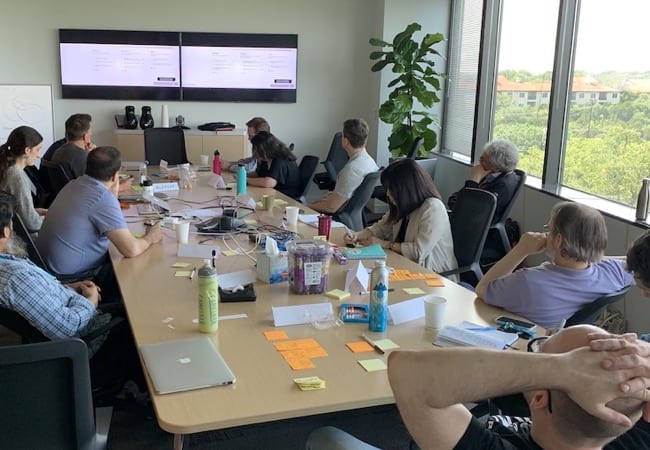 3. Build a shared understanding of your customers.
Here's another great early-stage activity that can drive alignment and innovation for years: creating research-based personas as a team. 
Done the traditional way, personas sit on shelves and feel like a waste of money. The design team at Herman Miller knew better. They watched and listened as we conducted in-depth 1:1 interviews with a bunch of their customers. Then we led a 1-day workshop to collaboratively turn that data into research-based personas. The team immediately put the personas to use on a major project.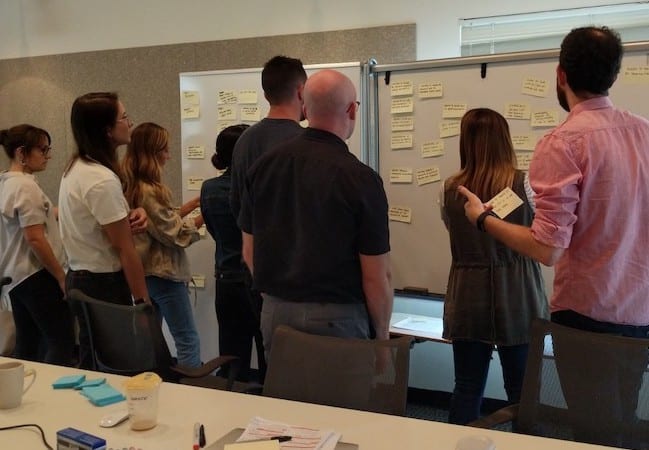 4. Tackle a daunting business challenge in a week.
Sometimes organizations that have been wrestling with a big challenge for a while need a spark — a way to make major headway quickly. Our work with PenFed — a $25 billion credit union — shows the power of the 1-week design sprint.
Borrowing from a model developed by Google Ventures, we facilitated 2 design sprints for PenFed last year. In each one, a diverse team from across the company came together for an intense 5-day process that started with a big organizational challenge and ended with customer testing of a solution prototype. Along the way, they learned skills to take back to their teams and tackle similar challenges in the future. A senior product manager said the sprints "set the stage to disrupt the culture of the entire organization by introducing human-centered design."
5. Create a scalable program of testing and innovation.
What do you get if you take all of the examples above and build a structure to ensure they happen over and over again, with more and more teams? You get GEICO, our favorite example of making research a scalable, recurring team sport.
Through our long partnership with GEICO's digital experience team, we've helped hundreds of IT team members innovate on products through user research.  And we've seen the value of turning testing and experimentation into a program, so that it's always happening and ready when you need it.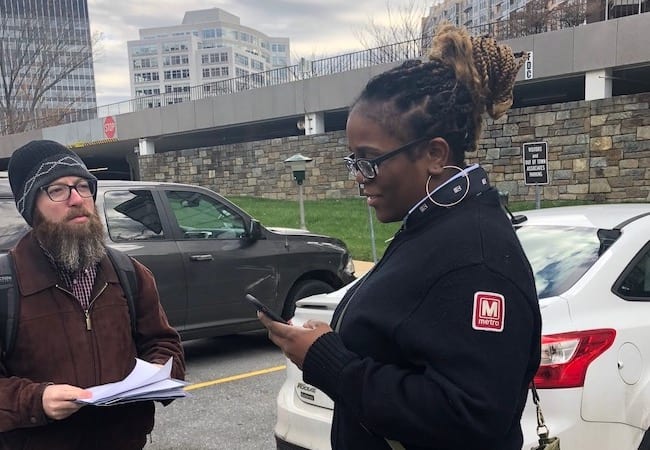 Learn about our new tools and work in 2020 and beyond
2020 is off to an exciting start at Marketade. We continue to experiment with new research methods and collaborative approaches as we help teams iterate and innovate.
We look forward to sharing what we learn throughout the year. Sign up for our newsletter to hear about our latest tools and work.